MTM Audi RS Q3 2.5 TFSI quattro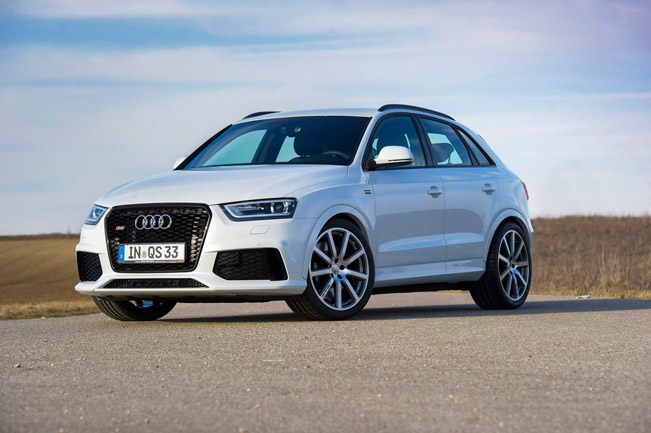 MTM Audi RS Q3 2.5 TFSI quattro has nothing to do with the original Audi Q3. The latter was more similar to a good family car then a sports one like this MTM creation. It is equipped with powerful engine is setting new standards. The reason for this is that it can produce 410 hp (302 kW) and 570 Nm (421 lb-ft) of torque. These numbers are due to the new modified engine management system - the M-Cantronic for the RS Q3 2.5 TFSI quattro, was specifically developed, built and installed at MTM.
Precisely, it is capable of 4.3 seconds acceleration time for the 0-100 km/h sprint. The top speed was also uprated and it is now 270 km/h. The M-Cantronic performs all it magic at the front end, which in turn has been optimized by an exhaust system tuned to the five-cylinder engine. There has been also added carbon fibre rear diffuser.
The front axle also includes drilled and internally ventilated 380 x 34 mm MTM brakes. The rear axle is served by the tried and tested production system. Furthermore, the appearance of MTM's latest creation is improved by Michelin tyres: the 275/35 R 20 Pilot Super Sport.
They were fitted onto the 9X20" Bimoto wheels, and generously fil the wheel arches. At last, adaptive MTM chassis package gives the right balance between performance and comfort.
Source: MTM