New Prius Turns Drivers Into "Bowser Wowsers"
Next-generation Prius will turn drivers into "bowser wowsers" with multiple driving modes and an energy monitor to help them achieve the best possible driving efficiency and fuel economy.
Drivers can select three "on demand" drive modes - EV, ECO and POWER - that supplement normal driving with new Prius' 1.8-litre four-cylinder engine, 60kW electric motor and seamless intelligent electronic transmission.
From start-up and at speeds up to 50kmh, new Prius can operate in EV (electric vehicle) mode, driving under electric motor power alone.
The driver may also select EV mode manually, allowing for urban driving with minimal noise and zero emissions. EV-only driving range is determined by the battery charge and also by throttle input.
This unique driving mode requires the uncompromised hybrid technology of Hybrid Synergy Drive. It is not available to drivers of parallel hybrids, otherwise known as mild hybrid vehicles.
The EV drive mode contributes to a significant reduction in overall fuel consumption because the petrol engine is switched off.
In ECO mode, the system reduces throttle response to aggressive accelerator pedal inputs and adjusts the power split between the petrol engine and electric motor. It also controls auxiliary functions like air-conditioning to improve fuel economy performance.
Depending on driving conditions, ECO mode can help drivers achieve a 10 to 15 per cent reduction in fuel consumption.
The POWER mode modifies response to throttle inputs, improving accelerator response and giving greater driving pleasure.
New Prius is also fitted with an Eco Drive Monitor, which displays information about the operation of the Hybrid Synergy Drive system.
The Energy Monitor shows the engine's current operating conditions and the electric and mechanical power flow. Working in real time, it helps the driver understand the basic energy flow through the system.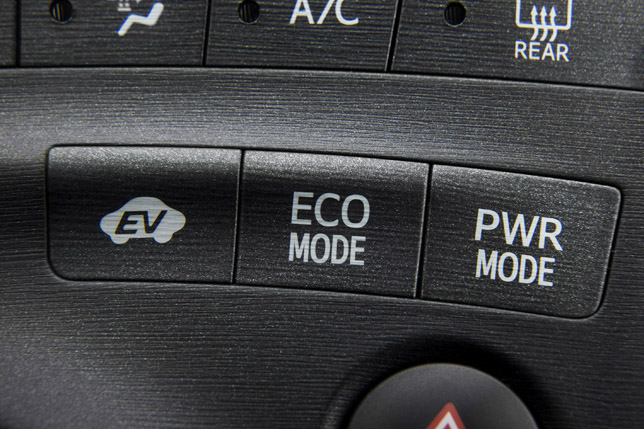 The Hybrid System Indicator displays real-time vehicle response to accelerator use, helping the driver modify throttle inputs and driving style to gain maximum fuel efficiency.
Drivers can view average fuel consumption for the past one-minute and five-minute driving intervals with a "green car" symbol indicating the amount of energy reclaimed through regenerative braking.
Another display provides trip-computer mileage and average fuel consumption records from previous trips.
New Prius, due in Australia from July, consumes an average of just 3.9 litres of fuel to travel 100km, based on the European combined cycle which is close to the Australian Standard.