Nissan Celebrates Performance Heritage With A Dozen Specialty Vehicles At 2008 SEMA Show
Nissan North America, Inc. (NNA) celebrates its 50th year of selling cars and trucks in North America in 2008 and its 10th year as an Original Equipment Manufacturer (OEM) participant in the Specialty Equipment Market Association (SEMA) Show with 12 highly modified Nissan vehicles built by aftermarket vehicle suppliers/customizers, as well as by Nissan's own engineering staff.
The dozen vehicles, ranging from the exotic Nissan GT-R supercar to a Nissan employee-built '32 Ford Highboy hot rod powered by a Nissan 300ZX engine, will be on display at the SEMA Show in the Las Vegas Convention Center from Tuesday, November 4 through Friday, November 7 at the Nissan SEMA booth (#36215).
"The automotive specialty equipment industry has exploded in recent years, with sales exceeding $35 billion," said Al Castignetti, vice president, Nissan Sales.  "We're proud that so many professional builders and individual enthusiasts chose Nissan vehicles as the platform for creating their own modified and customized dream machines."
Along with the various Nissan-supported vehicles at the show, numerous privately built Nissan vehicles are expected to on display throughout some of the 2,000-plus exhibits.  In addition NISMO, the premier supplier of high-performance aftermarket parts and accessories for Nissan vehicles will exhibit a variety of NISMO performance components, accessories and apparel at the Nissan booth.
Following is a brief overview of the Nissan vehicles on display at the 2008 SEMA Show:
·         Steve Millen Sports Cars Maxima – Nissan's "4-Door Sports Car" receives the full aftermarket treatment from well-known Nissan race driver and builder Steve Millen.  Modifications include engine airflow management improvements, rear roof and deck lid spoilers, custom wheels and tires and a two-tone black-and-silver paint treatment.
·         "Citizen Soldier" Altima Coupe – Sergeant Nick Ashby and Steve Millen Sports Cars pay tribute to the National Guard with a transformed Altima Coupe.  The vehicle, complete with military themed paint and extreme custom interior upgrades, was the centerpiece of the National Guard recruitment display at Hot Import Night events in 2008.
·         "Hot Rod Hybrid" Altima Hybrid – Braille Battery put together this extreme Altima Hybrid to promote hybrid technology and alternative fuel usage.  The E85-powered Altima uses an electric supercharger to supplement the heavily modified drive train.  Race-style interior modifications and an eco-focused paint scheme complete the long list of modifications.
·         Automotive Design Concepts Rogue – Automotive Design Concepts injects the Nissan Rogue with a shot of active lifestyle adrenalin with engine modifications, a suspension lift, aggressive snow tires and full snowboard co-branding.
·         4X4 Parts Pathfinder – The popular Nissan Pathfinder receives a serious work-and-play treatment, adding the equipment to "help build and enjoy a log cabin in the remote parts of the forest."
·         NISMO Titan – This modified NISMO Titan, built by Nissan North America, features a new package of chrome accessories.
·         Muscle Road Frontier 4x2 – In a twist on the classic low-rider truck look, Muscle Road Inc. created this full-fledged "sports car" sport truck.  Low to the ground with wide road racing wheels and tires, the Nissan Frontier 4x2 looks ready to carve canyons with the best of the Nissan ZÒs – but it can also bring along a payload in the bed.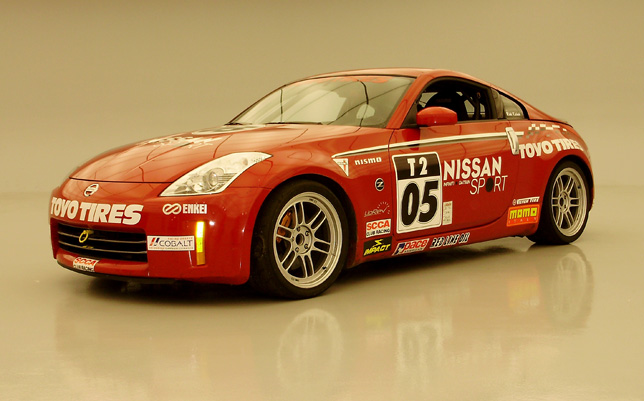 ·         Rick Kulach Racing 350Z – This fully prepped Nissan 350Z comes to SEMA fresh off competing at the Sports Car Club of America (SCCA) National Championship Runoffs.
·         Rockford Fosgate Armada Rocker – Rockford Fosgate, a supplier of premium audio systems for a variety of Nissan vehicles, turns a full-size Nissan Armada SUV into the ultimate off-road sound studio.  With V8 power and an equally powerful sound system, this is one Armada that's ready to "Rock the Rockies."
·         Time-Attack 350Z – The Westside Group joined with Mines Performance, one of Japan's top ZÒ tuners, to create an all-out time-attack vehicle.  A wide range of extreme body and powertrain modifications promise to make this one of the most intriguing ZÒs at the show.
·         Nissan GT-R – With 480 horsepower from its twin-turbo 3.8-liter V6 and aggressive aerodynamic styling, the 2009 Nissan GT-R needs no introduction to the SEMA crowd – and no modifications.  This factory supercar is expected to draw large crowds throughout the run of the show.
·         Z Highboy Roadster – Nissan North America employee Jack Taylor built this unbelievable variation on the classic 1932 Ford Highboy Roadster utilizing a complete Nissan 300ZX drive train.  This is one hot rod that deserves a second look – especially under the hood.