NOVITEC ROSSO GTO888
NOVITEC ROSSO has introduced the car world an extremely improved conversion of Maranello's super ride Ferrari 599 GTO at the Geneva Motor Show. Dubbed NOVITEC ROSSO GTO888, the exotic machine highlights superior outer styling with silver finish and yellow cross stripe, monstrous, custom-tailored forged wheels NOVITEC ROSSO NF4, measuring 21-inches at the front and 22-inches at the rear wrapped in high-performance Pirelli PZero tires in sizes 295/25 ZR 21 and 335/25 ZR 22.
Of course, NOVITEC ROSSO has named the enhanced Ferrari - GTO888 with reason, as its new output tops the extraordinary 888 horsepower (653 kW) and 862 Nm of peak torque with V-max exceeding 340 km/h. These enormously high figures are achieved thanks to the tuner's knowhow, which in our case has upgraded the proven twin-compressor 6.0-liters four-valve V12 engine via optimized superchargers, large water-to-air intercooler, a stainless-steel high-performance exhaust module as well as remapped ECU.
NOVITEC ROSSO GTO888's zero to 100 km/h acceleration sprint takes only 3.2 seconds, while from standstill to 200 km/h lasts 9.1 seconds flat.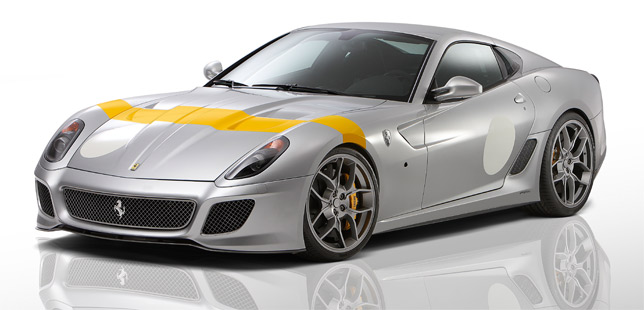 Furthermore, the ultra-fast, unique eye-catcher boasts lower center of gravity thanks to a newly mounted sport springs and upon a customer request can be fitted with wide variety of interior goodies, including premium leathers, custom colors, high-end gadgets and carbon surfaces.
Source: NOVITEC ROSSO