Mercedes A-Class: the controversial car is now in its best form after PIECHA's conversion

PIECHA Design offers new styling kits for the W176
Who said that the controversial Mercedes A-Class can not look sporty? Well, of course after the general transformation it received in 2012, the car looks unrecognizable from its original form. Because of the negative customer reaction of the "minivan"-like A-class, the new variants look mostly as a small version of the C-class. Still, the transformed automobile debuted four years ago, and if you are among those owning one, but are satisfied with its performance and capabilities, then you will most certainly like this article.
The tuning experts at PIECHA Design have just released very stylish and sporty variant of the A-Class. The cosmetic changes are due to the addition of company's GT and GT-R styling kits, but they not only contribute for the good looks, but also make the car faster and more agile.
SEE ALSO: Mercedes-Benz E-Class Convertible or Coupe: PIECHA Design makes both look better than ever 
Here are the details: the front of the A250 is adorned with a pair of new GT-R front cup wings. They have been placed in the original AMG bumper, thus helping the car look wider. For added assertiveness takes care the GT-R front splitter as it divides the big external front apron grid.
At the back of the automobile we see something very pleasing: the GT-R roof edge spoiler, which highlights the striking new body shapes of the A-Class. The final touch at the rear is given by the GT-R rear diffusor insert that sports the original AMG twin tailpipe trims of the SL63 AMG (or C63 AMG, depending on customer's choice).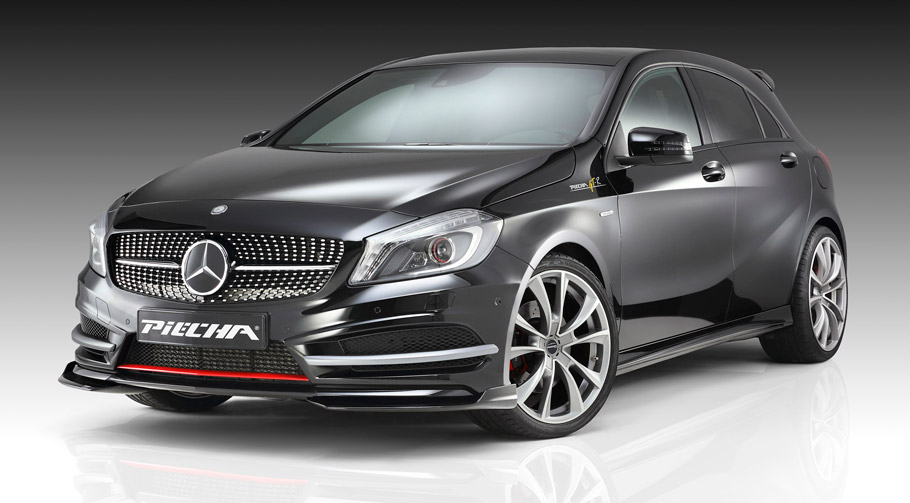 By the way, if your A-Class isn't an AMG, then you will need PIECHA's GT air dam lip URBAN that is stuck upon the production bumper. To it should be also added the GT sill flaps URBAN, so that you can get the sporty AMG appearance. Not forgetting to add better alloys: the tuning studio is actually offering 19-inch high-tech MP1-Monoblocks in titanium or black, or 20-inch MP5-LXMs in silver or black.
Now that's an A-Class to praise, isn't it?
Source: PIECHA Design