Mercedes-Benz E-Class Convertible or Coupe: PIECHA Design makes both look better than ever

Marcus PIECHA takes his hands on the Mercedes-Benz E-Class Convertible and Coupe 207 Series
Mercedes-Benz E-Class 207 Series was released seven years ago, but it brought back the memories of the timeless and elegant 124 convertible and coupe. PIECHA Design is obviously making an offensive to tune Mercedes models, which were famous back in the days. So, what we have here is an interesting variant of the pre-facelift models (those released before 2013), which have the characteristic "rectangular" eyes.
The extensive modular visual package brings about an exciting racing look. Needless to say, the unique bodywork is an elegant extension of the innate AMG looks. So, if you own one and you think it is time for refreshment, maybe this article comes at the perfect time. Let's see what we have here.
SEE ALSO: How to make your old E-Class look like a Nissan GT-R? Piecha Design answers! 
The front and rear get RS styling with the mighty front lip with its integrated air splitter and the rear diffusor insert. More aero-dynamism and assertiveness is thus assured. The top-stretching air box renders the air current beneath the car, while the rear appears flatter and racier, due to the addition of a three-part rear spoiler, which also highlights its width.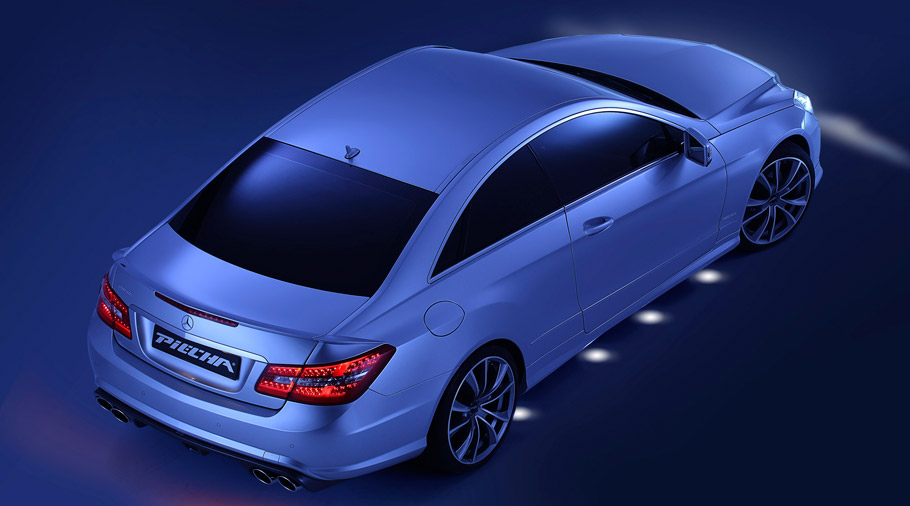 Furthermore, the designers added wheel spacers of various sizes and sport-type springs. The latter are 15-20mm shorter than the original ones. There is something very important about the rear of the car: the diffuser insert has been optimized by Marcus Piecha himself in order to fit in the legendary QUADRO 4-pipe exhaust. At its end, the chrome-plated tailpipes add auspicious visuals for the growling sound that come out of the exhaust.
At last, there are several types of wheels for these Mercedes models: at the top are the silver or black 20-inch MP5-LXM alloys. However, if you are keen on smaller rims, then there are available the equally stylish 19-inch MP1-Monoblocks in titanium or black.
Source: PIECHA Design