PIECHA Design Recreates Jaguar F-Type R Coupe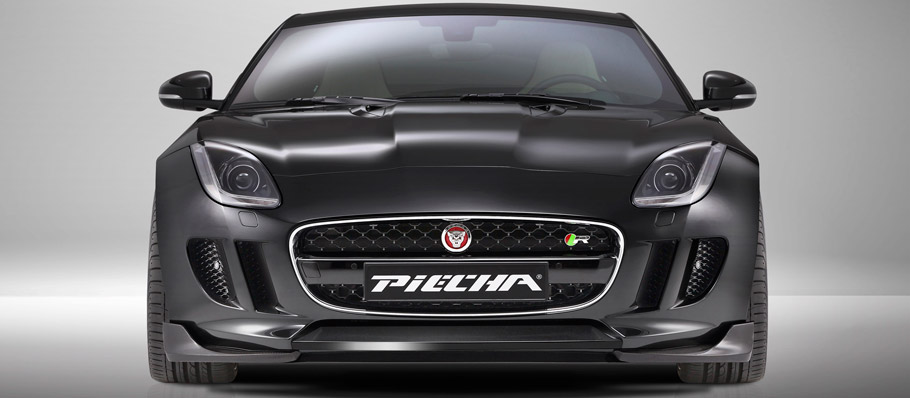 PIECHA Jaguar F-Type R Coupe is another fantastic tuning created by the talented specialists at the PIECHA Design studio. This tailor made performance edition of the F-Type 5.0 V8 R-Coupe looks fantastic and exudes an elegant dynamism, even at rest.
To achieve this, the tuner has added new aerodynamic styling kit made from the finest high-gloss carbon. In addition, 21-inch PIECHA MP-Y alloys in high-gloss silver finish round out the new visual appearance of the Jaguar.
Exterior

Jaguar F-Type R Coupe has a purposeful stance even without any additional changes. However, this look is emphasized via the dramatic modifications to the front and rear. Starting with the back, there is a new wide carbon diffuser with two vertical stabilizing fins. We also see satin textured bezel framing the four 90 mm exhaust tailpipes.
SEE ALSO: PIECHA with Evolutionary Design for the Jaguar F-Type 
There is more to that, the rear deck also received aerodynamically optimized carbon rear wing. Its black anodized aluminum and support struts are very detailed and speak of a lot of attention given.
At the front, we see high-gloss lacquered carbon front cup wings and carbon sill wings. They give the body of the car wider, more wedge-shaped appearance. The front wings were attached to the original spoiler lip, thus making the front spoiler appear deeper.
Suspension

A special lowering system was developed for this project. The bespoke height-adjustable coil-over spring setup was created to match the front end. The tuners added also new springs to the rear.
At the front, the suspension includes main spring and a helper spring separated by a threaded, height adjustable spring pan. This system provides a lowering adjustment range of between 10 and 30 mm. And this is from stock ride height.
Wheels & Tires
The improved optics and handling, received new MP-Y high-glass silver wheels fitted with Yokohama ADVAN Sport tires. While the alloys come in 9.0 and 10.5 x 21 inch sizes, the rubbers are 255/30R21 and 295/25R21 big, respectively.
This Jaguar F-Type is available for 3.0-litre V6 and 5.0 litre V8 Coupé and Convertible models.
Source: PIECHA Design