Porsche 997 Turbo S With Stage 3 Kit By McChip-DKR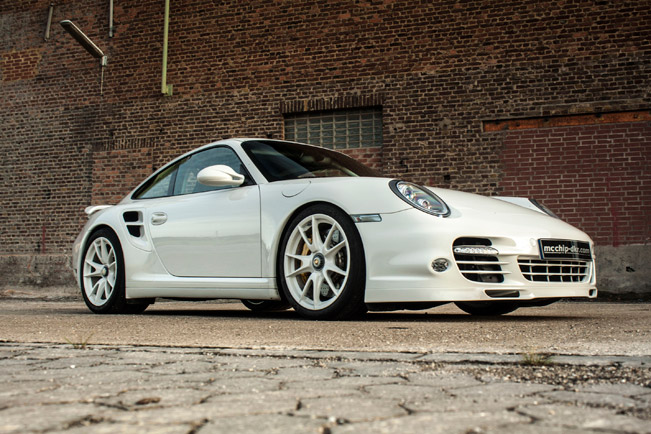 McChip-DKR Porsche 997 Turbo S is a vehicle which was tuned specially for track day events. The specialists at the tuning company McChip-DKR are proficient in the fields of power improvements and that is why they decided to give this sixth generation nine-eleven 2012 model some new characteristics.
The production Porsche is equipped with 3.8 Turbo DFI engine, but the McChip-DKR decided to improve it by giving it a Stage-3-Kit. Hence, the serial 530 horsepower (390 kW) and 700 Nm (517 lb-ft) of max torque were enhanced by a modified engine management with software adaptation, an exhaust system with sports cats and header designed by Michael SCHNARR from the CARGRAPHIC company.
The result is up to 600 horsepower (441 kW) and 815 Nm (605 lb-ft) of max torque as well as a mighty sound. Furthermore, to make it more safety due to the increase of power, the tuners have equipped the Porsche with HEGEMANN rollover cage.
In addition, the sliding roof has been exchanged against carbon top. The needed reduction in weight, typical for every sportscar modification, was achieved via the Makrolon material used for the manufacturing of the rear window.
In terms of chassis, there were utilized PASM coilovers delivered by Bilstein. The splendid wheel-tire-combination, consisting of original Porsche 997 GT2 RS rims with Michelin Cup tires was left untouched.
The interior of the vehicle was also transformed. To be more precise, the seats in the inner of the bolide have been changed with a sophisticated combintion of Alcantara and leather upholstered Recaro SPG shell type racing seats. Many car pieces were also painted in the color of the car.
Source: McChip-DKR via Miranda Media