Porsche Cayenne II by Schmidt Revolution
Here is a Porsche Cayenne II. It has been around for 2 years now and has proven to be a very decent SUV. It's 180 kg lighter than the first one, the front of it goes easy on the grilles and the headlights plus the interior design have some Panamera in them. So why are we even talking about it? Well, if you have an eye for that kind of things, the wheels are kind of custom and the ride is lowered.
Bad Segeberg based Schmidt Revolution house have fitted on this Cayenne four 10x22-inch one-piece five spoke summer rims. Its a set from their CC-Line. At the front, the tires size up to 295/30R22 while at the back they measure 335/25R22. They can be finished in silver, black (glossy or matte) and in exquisite black chrome. The last variant has a cover, made from a stainless steel, which doesn't allow any dirt sticking on it. Also, because of an H&R-suspension lowering module, the Cayenne now sits lower than usual. As a result, the center of gravity is lower and drag is now a bit lower.
Otherwise, things remain pretty standard – with a base model, under the hood you should find a 3.6 L V6 engine that produces 300 PS. The power goes trough a 6-speed manual to all four wheels. Just think of it as a second generation VW Touareg and you''ll get the picture.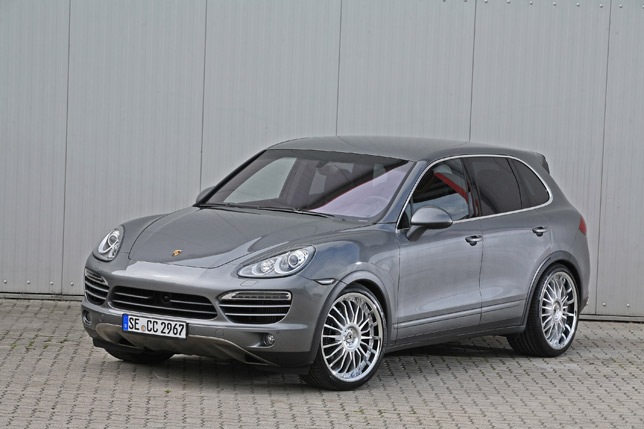 Source: Miranda Media