Rare Mercedes-AMG A45 Edition 1 Sees More Power and Torque Than Ever

Posaidon has been very active lately (see in the link below) and this time they have sent us a very exclusive project, which again involves a Mercedes. However, what is particularly very cool about this car and what has impressed me much is that the tuning company has worked with the rare Posaidon Mercedes-AMG A45 Edition 1. The changes featured here not only involve power uprating but also feature some additional upgrades which we'll discuss in details.
The Excellent Tracktool
The Mercedes-AMG A45 4MATIC is the perfect basis for power uprating because it initially offers impressive performance and exclusive optical properties. This is the reason why the tuning company did not hesitate to develop right away a breathtaking tracktool.
SEE ALSO: Posaidon Ensures that There is an excess of 700 HP for the Mercedes-AMG C63 Station Wagon
Posaidon's tracktool-package features a complex overhaul of the four-cylinder twin-scroll turbocharged engine. The result is impressive increase in power, which I will reveal you in a moment.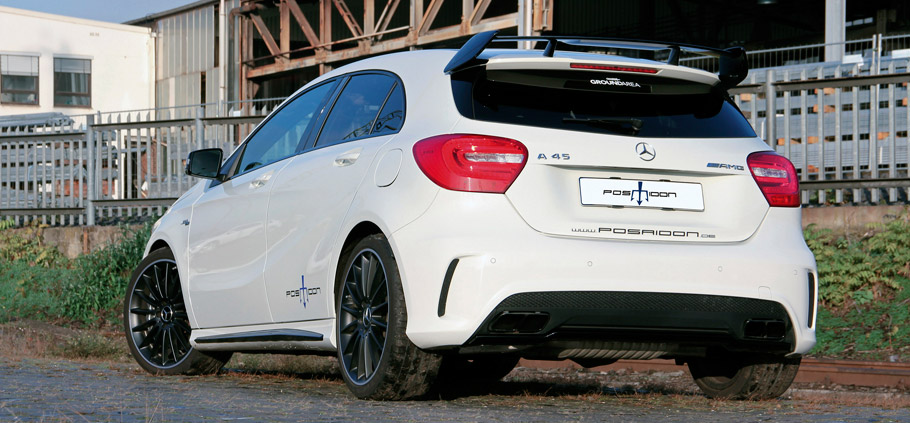 The boost was made possible via the addition of upgraded turbocharger, catless downpipe and revised the engine control software that includes the fine-tuning on a dynamometer. In addition, the tuners also optimized the charge air cooling and the airflow for the intake air.
As a result, the increase in power is up to 485 hp (357 kW) and 555 Nm (410 lb-ft) of torque. In combination with the reinforced transmission, the powerhouse now reaches a top speed of 310 km/h.
Other Goodies
Nevertheless, this impressive performance requires an upgraded deceleration means. So, Posaidon offers an upgrade for the original braking system or special two-piece potted discs. At last, the conversion of the A45 Edition 1 includes in-house made speed-trap update for the navigational system, unlocking of the TV-Mode and the deactivation of the Start/Stop-ECO mode.
Source: Posaidon