Skoda Octavia RS Combi Diesel Optimized by Mcchip-DKR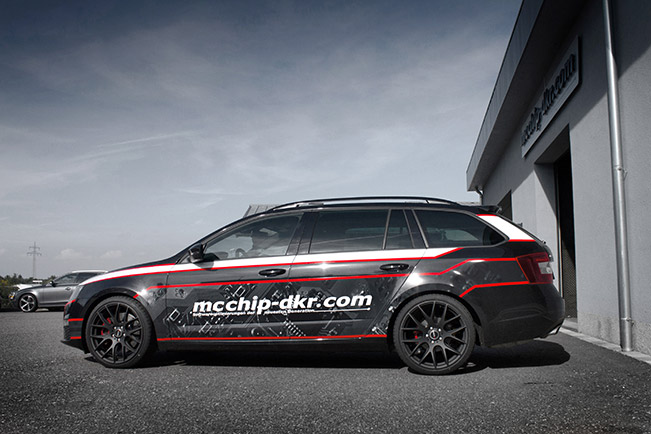 The upgraded Skoda Octavia RS Combi Diesel might just be the new big thing. With the help of the German tuning company mcchip-dk, the diesel incarnation of the sedan becomes slightly more… hermetic.  It is a real catch for the eyes of combi-lovers.
The vRS Diesel model has always been, in a way, out of the ordinary. And yet with the new tuning package it becomes even more so. Initially with its 2.0 liter TDI engine the family car produces 184 HP (135 kW) and 380 Nm of torque. With the upgrade program, though, things are quite different. Changes start right under the hood where the engine unit gets an ECU remap. Mcchip-dk strengthens the power of the car and boosts it to 215 HP (158 kW) with 415 Nm of maximum torque. According to the information provided by the tuner, this optimization will cost you the modest sum of 849.00 Euro.
Another spicy improvement on the Skoda Octavia RS Combi Diesel is in its connection to the road. The new ST sport suspension high performance springs bring the car closer to the ground by lowering the ride height by 30 mm on each front and rear axle. The suspension kit can be purchased for 179.00 Euro plus mounting. Furthermore, there is a set of wheel of multi-spoke design that really stands out. The Xtra Wheel rims in SW5 design are sized 8,5x19 ET40 and are dressed by Dunlop tires type Sport Maxx GT in 225/35ZR19. The great wheel-tire-combination comes in a stylish mat black. The price for the set of wheels is estimated at 1,590.00 Euro.
Source: Mcchip-dkr