SR Auto Infiniti M35 Fitted With Vossen CV7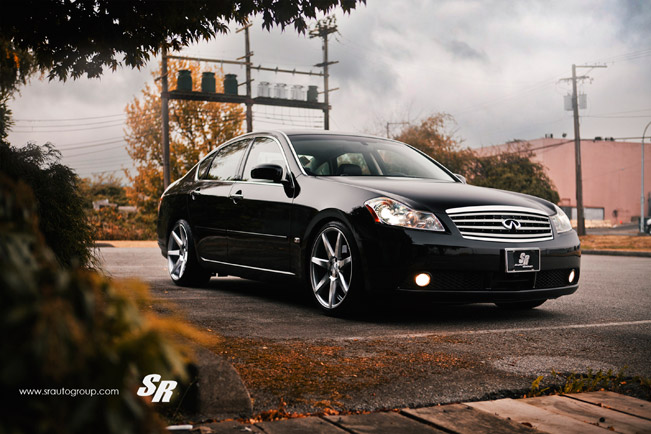 SR Auto Infiniti M35 is an exceptional tuning with sinister stance. The reason for this is that the specialist from SR Auto decided to fit the Infiniti model with unique set of Vossen CV7's.
In details the M35 has overall power of whopping 364 hp (268 kW) and needs just 6.9 liters per 100 km on combined cycle. The highway consumption is 5.6 liters per 100 km and the urban – 9.0 l/100 km. The acceleration time for the sprint from 0 to 100 km/h is only 5.5 seconds and the top speed here is 250 km/h (155 mph) – of course it is electronically limited.
But let's go back to the main topic. The obstruction was the wheel gap, which we quickly eliminated with a set of BC Racing BR Series coilovers. The BC Racing coilovers offered a wide range of adjustments between dampening and height, which gave this Infiniti a powerful stance.
These coilovers were selected because they perform exactly the same at all heights. And the Vossen Wheels – in particular in CV7 form, include seven distinguishing spokes in a two tone finish. In fact, the face of the spokes was buffed to a bright polish finish, while the sides and windows feature a brilliant silver tone.
And we must admit that these wheels sit perfectly flush against the edge of the fenders, giving this M35 a sinister stance.
Source: SR Auto Group