SR Auto Project Denso Fiat 500 Prima Edizione
We really hate it when some tuning houses decide to put some flashy wheels on an already appealing car and call it a project. So when we caught a glimpse of this Fiat 500 Prima Edizione (limited edition) touched by SR Auto, we rolled our eyes. "Here's another one... what's it called?" Project Denso they say.
Okay, so it has a set of lightweight Work Meister S1R wheels. Massive two-piece forged things, finished in matte black and line with some bronze. The Fiat's wheel arches, as we can clearly see, are struggling for air. At this point, we hurried to conclude: "Okay, so that's about it, right?"
Well, it turned out that's not the full story. Some behind the curtain work has also been done. We should have guessed that one – lower springs by H&R, good for handling we've been told.
But even deeper underneath the shell, a K&N filter system works its magic to provide a bit of extra boost from the air coming in. Further down the road we also find a Magnaflow cat back exhaust system that releases any flow restriction that might have been present on the standard Prima Edizione Fiat 500.
So then, Project Denso it is – 100% fun content (from concentrate).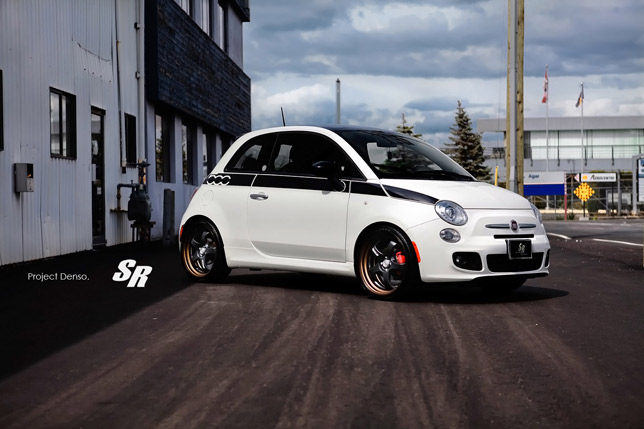 Source: SR Auto