SR Auto Project Pryzm Scion iQ
We have talked about this before – it's a Scion iQ, custom made by SR Auto. This one however is a bit different, more complete, a finished product in fact. The project is called "Pryzm" and rightfully so. Being so boxy, the only thing that stands between it and a prism is that the latter does not roll on 17-inch Sparko wheels.
The ride is lower and a Premier 4509 kit decorates the exterior. That means that the front and rear bumpers, side skirts, front fenders, the hood, and the roof spoiler are all new. (in Scion terms that is pretty much the whole body)
It would seem however, that more effort has been made for the innterior. Although stock, the seats have had their foam trimmed in a way so that they now have an elevated side bolster. The upholstery boasts a red diamond stitched pattern over black suede. The rest is black leather with again red stitching. Even the door panels bare the a similar design.
There's no word on any performance tweaks so one should expect the standard 1.3 liter petrol that kicks in 95 hp and 123 Nm of torque. The Pryzm iQ has already made its debut at the Open Road Scion even last week – it's a sort of a Scion fans and owners convention that offers a forum on talks about new, old and tuned models of various kinds of Scions.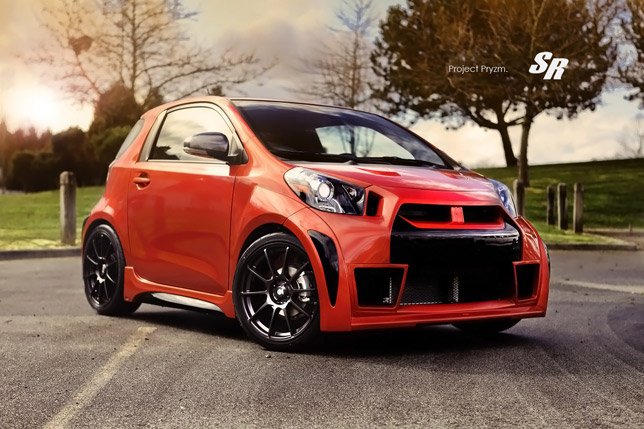 Source: SR Auto