SsangYong LIV-1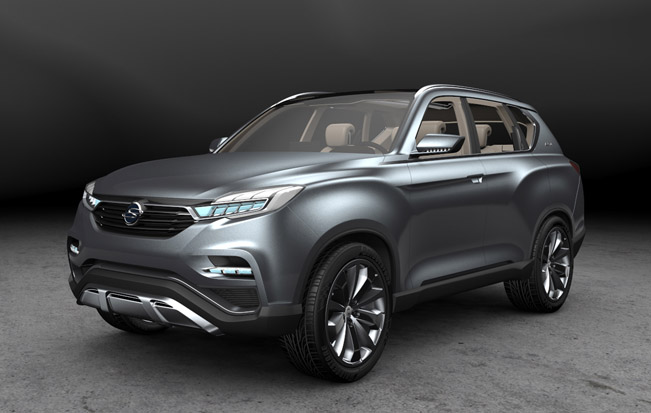 SsangYong has presented their new concept car at the Seoul Motor Show in South Korea.  The LIV-1 (Limitless Interface Vehicle) is a large SUV and features an easily controlled four wheel drive system via an interface.
Flexibility is the key design concept for the interior, where lines and curves come together to create a refined and inviting environment to achieve what is described as a lounge for the future.  High gloss piano black on the centre fascia and contrasting aluminium detailing imbues the interior with the premium feel appropriate for a top-line SUV.
The dimensions of the vehicle are 4,870 mm in length, 1,950 mm in width, 1,850 mm height and a wheelbase of 2,840mm.
And as you would expect, this futuristic interior features all the latest technology to meet IT needs on the move.  The car's driver-vehicle communication interface is based on the 3S-Cube, the core of SsangYong's future technology.  This combines the elements of Smart Link, Safe Way and Special Sense to allow the vehicle to be remote-controlled using a smart device and to provide entertainment both within and from outside the vehicle.
Smart Link is a roof-and-glass system created from nano tube technology that removes frost quickly via remote control for safe winter driving, while Safe Way ensures safe driving by actively preventing collisions in blind spots and at intersections.
Special Sense allows the driver to arrange instrument cluster items to suit personal taste, the interface controlling the sound, seats and interior lighting to create a bespoke personal driving space.
There is a 10" monitor in the centre fascia and a 7" monitor in the headrest. The touch-panel displays featured in the LIV-1 provide clear information while continuing the futuristic theme.
Source: SsangYong