Suzuki Unveils iV-4 Compact SUV Concept In Frankfurt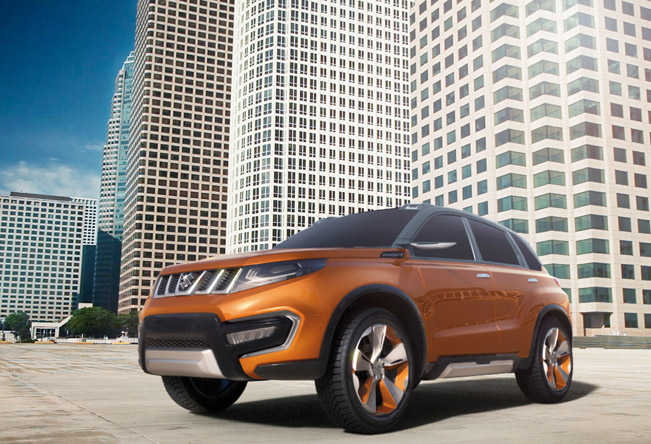 Suzuki is currently making the official world debut of its new compact SUV concept vehicle named iV-4. The new model has striking and powerful exterior design, which follows the tradition of brand's compact SUVs.
In fact, the vehicle is created to be personalized. The result will be a car which perfectly complies customers' wishes and lifestyle. And this concept is featured in the name of the SUV as well. Here, the "i" stands for "individuality", "V" for "vehicle", and "4" for "4 wheel-drive".
The design of this new concept features straight, sleek lines, clamshell hood, five-slotted front grille. This effects in very futuristic stance which is continued by the distinctive kicked-up character lines on the sides, the fog light with built-in laser sensor on the roof and the illuminated grille.
This Suzuki runs on large-diameter tyres, matched with wheel design that gives a foretaste of the powerful road performance of an SUV. The individualization regarding the exterior is through individual choice of exterior parts, colour, texture, and much more. For instance, there is now being offered the specially created exterior colour Brilliant Turquoise Metallic which comes to remind us of the sky reflected in a skyscraper.
The brand has also announced that there is going to be a production model based on the iV-4 that will be lightweight and will deliver one of the lowest CO2 emissions figures in its class. In addition, it will be equipped with ALLGRIP, which is a next generation of 4WD technology created for exhilarating and powerful drive.
The production model will be launched in 2015.
Dimensions of Suzuki iV-4 Compact SUV Concept:
Overall length 4,215 (mm)
Overall width 1,850 (mm)
Overall height 1,665 (mm)
Wheelbase 2,500 (mm)
Tyre size 235/55R20
Source: Suzuki