Techart Individualizes Porsche 981 Boxster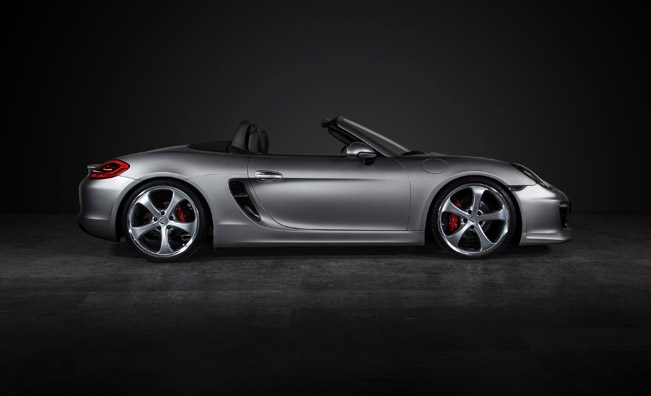 Techart Porsche 981 Boxster individualization program will turn around the perception of what a sports car would look like. Techart studio is offering the drivers a range of options for making their Boxster into one-of-a-kind vehicle.
A lot of refinement options are included here – from light alloy and forged wheels to the exclusive exterior and interior styling packages. A vary special feature is Techart's light alloy and forged wheels in 21-inch size. If you wonder for the reason, well this is because they give the Porsche unique and even sportier look.
Two options are available: the classical five spoke design of Formula light alloy wheels or the dynamic double spoke design of the Formula III forged wheels. A weight reduction of about 40 % regarding to alloy wheels in the same size means lower unsprung masses which actually gives the car optimized agility and handling.
Moreover, the Techart twin tailpipes which are made of polished stainless steel in a classic rounded design and the individually colored exterior packages, perfectly complement the Porsche. In addition Techart's sound muffler and sport exhaust system with valve control guarantee acoustic support in the sporty coupe.
The exterior of the car is rounded off by Techart's sport spring kit and a lowering of 30 mm at the front and 20 mm at the rear axle. Of course, the tuners haven't forgotten the interior. Here, a full leather interior with a decorative stitching in combination with the Techart's styling packages perfectly fit the unique visual stance of the Boxter.
Attention to the detail has been provided, and of course the tuning company couldn't go without selected carbon fiber packages, which provides sporty and high quality touch. In connection with the ergonomically mounted paddle shifters, the 3-spokes sports steering wheels delivers precision control over the vehicle and allow simple and fast gear changes with maximum driving pleasure.
The tuned Porsche Boxster will make its World premiere at the Essen Motor Show this year, which will take place from the 1st to the 12th of December.
Source: Techart