TechArt Porsche 911 Turbo - 700 PS and 880 Nm
TechArt has released more powerful version of Porsche 911 Turbo – 997 model. The tuning company launched power kit TA 097/T1 and T2 several months ago and now they offer TA 097/T3 kit.
Porsche 911 Turbo originally produces 500PS, but with stage 3 it is boosted to whopping 700PS (515 kW) and 880Nm (649 lb-ft) of torque. This is an increase of 200PS (147 kW) and 230Nm (170 lb-ft).
The results are thanks to two new VTG turbochargers, high performance intercoolers, sport air filter, new intake manifold and sport exhaust system. Of course, everything is carefully mapped to work just fine. There is also TECHART engine styling package in carbon-fibre.
The performance is brutal – 0 to 100 km/h in 2.8 seconds, to 200 km/h in 9 seconds and a top speed of mind blowing 352 km/h (219 mph).
All that power is put on the road through all-wheel-drive system, so you just have to step on the gas pedal and grad the steering wheel really hard.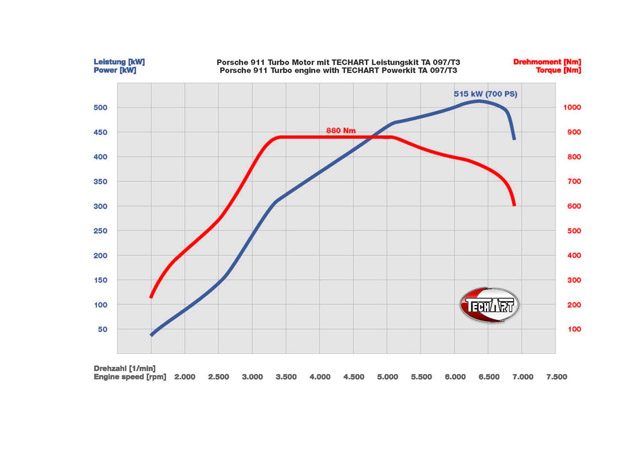 Source: Techart