TechArt Power Kit for Porsche 911 Turbo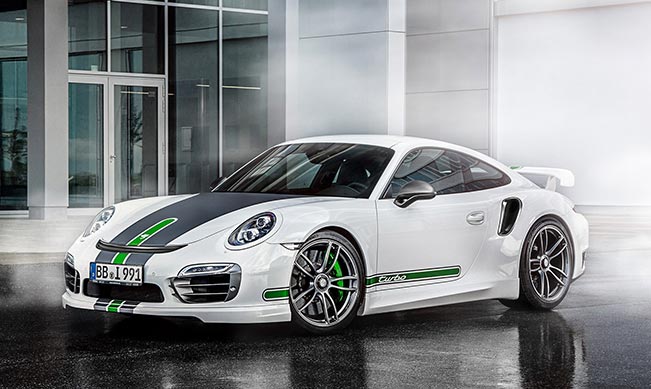 Techart is now offering a power kit for Porsche 911 Turbo. Based on the intelligent TechArt engine management system TechTronic, the additional control unit provides additional 60HP and 130 Nm to the 3.8 liter 6-cylinder boxer bi-turbo engine.
The TechArt power control unit provides extra power on request with a single push of a button on the center console. 0-100 km/h in 2.9 seconds (3.0 seconds for the Cabriolet) and a top speed of 325 km/h (202 mph). Without using Sport- or Sport Plus mode the vehicle operates with series engine management system.
The TECHART engine management system TECHTRONIC is characterized by the following product features:
significant increase of performance and driving dynamics
activation by pushing the Sport button at the center console
quick and easy installation, trouble-free deinstallation at any time
intelligent electronic power management
highest material quality and fulfillment of OEM specifications
does not affect vehicle diagnostics or servicing
does not affect electronic engine protection features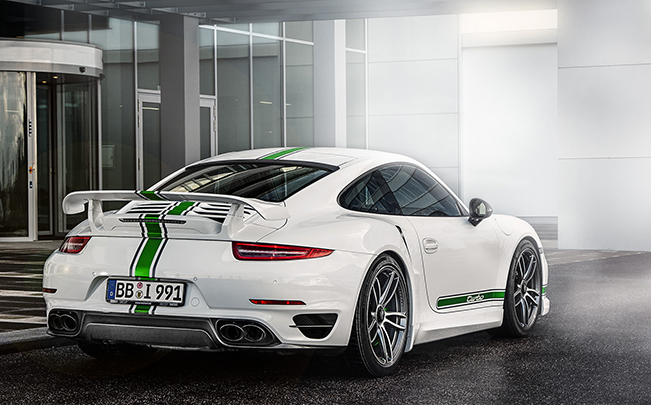 Like every factory-new TechArt product, the high quality standards of the TechArt Power Kits are backed by a 2-year limited warranty. But more than that, TechArt grants an additional warranty on damages at engine or gearbox according to the TechArt TechTronic Warranty Terms.
The tuning specialists also offer TechArt exhaust system with valve control. The TechArt sport tailpipes are made from stainless steel in dual oval tube design. They are available in gloss chrome and matt black chrome finish.
Last, but not least are the forged centerlock wheels in 5-twin-spokes design.
Dimensions:
FA: 9.0J x 20" ET 46 (for Porsche 911 Turbo, Turbo S and GT3)
RA: 12.0J x 20" ET 47 (for Porsche 911 GT3)
RA: 12.0J x 20" ET 58 (for Porsche 911 Turbo and Turbo S)
All wheels can be ordered in titanium grey or with polished front surface. According to the vehicle's equipment, a modification for a central locking device might be required.
Source: TechArt