Toyota DragQuoia Family Sequoia Dragster Concept Debuts at SEMA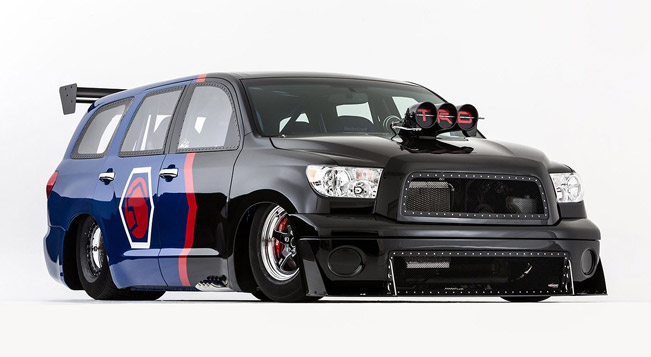 Toyota DragQuoia Family Sequoia Dragster is SEMA bound concept car. In other words it is a very special vehicle with a little hint of NHRA twisted all the way in it and with a "great deal" of horsepower.
And to be even more precise this is NHRA's leader Antron Brown concept for his Sequoia made for the Toyota Racing Dream Build Challenge. Hence it isn't a surprise that the DragQuoia family dragster includes massive 21.5-inch wide rear tires, and adds more horsepower resulting in 650 hp.
This number is achieved thanks to the TRD-supercharged engine with nitrous. In addition, the concept got an extensive custom chassis fabrication. Furthermore, to make it more faster, Brown's Toyota was lightened with 1600 lbs – everything which wasn't essential was removed.
Nevertheless, the initial aim was also to make it more family friendly, which effected in something extraordinary. In particular – the individual racing seats for four, each with its own five-point racing harness, plus a child-size version with harness in the back so kids can get in on the action.
In terms of safety and security there were additionally mounted a full custom roll cage and a tail-mounted parachute. The final vehicle build will be revealed at a press conference in the Toyota display at the SEMA show in Las Vegas.
Source: Toyota