Triumph Rocket: 493km/h is, in fact, achievable. Here's how they did it!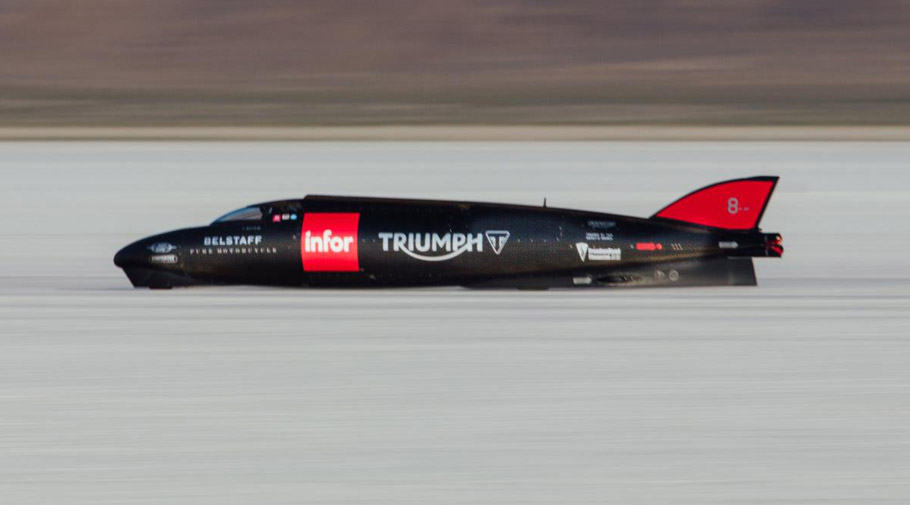 TT Legend Guy Martin, who piloted the Triumph Infor Rocket Streamliner became the pilot who reached highest speed ever achieved with a Triumph machine with the incredible 274.2mph. The record was broken at the Bonneville Salt Flats. Unbelievable, right?
Achieved on 8 of August this year, the speed of 493.65 km/h is much more faster than the previous record speed of 441km/h, set by Bob Leppan with the Gyronaut X-1.
Even the bad weather conditions were not able to stop the team of achieving success: with tons of confidence and preparation, in 08:30am Guy Martin set off on the first run for the day and after a steady start, Martin managed to reach the legendary speed of 274.2mph, writing some more Triumph history in the process.
SEE ALSO: 2017 Mazda6: passionate and functional. As any Mazda vehicle should be
Definitely getting more and more confident, the whole engineering team put all its energy into the project. Throughout a week Martin and his fellow colleagues have impressed anyone who was watching as the Triumph Rocket gained more and more speed.
And as we are talking about the vehicle, let's mention some of its features, shall we? This monster comes with carbon Kevlar monocoque construction with not one, but two Rocket III power units, producing a total of 1,000 hp (735kW) at 9,000rpm. The whole thing is a total of 25.5 feet long, 2 feet wide and 3 feet tall. Also, by power, gained from methanol fuel, the bike can compete in the Division C category. Cool, right?
Source: Triumph Motorcycles