Valentino and Aston Martin Release Vanquish Volante Special Edition

Valentino and Aston Martin have teamed up for a special project, which will support the "Cash & Rocket Tour". Valentino will be the main sponsor of the event for the third consecutive year. The fourth edition has started yesterday and will continue until 19th of May. If you hear for the first time about the "Cash & Rocket", this is a fundraising event that supports three humanitarian organizations: Shine on Sierra Leone, OAfrica and Sumbandila, which help African children and their families.
Next to many fundraising items, among them is an extremely special Aston Martin Vanquish Volante. Valentino had the mission to create a special edition of this model, which had to be entirely customized.
SEE ALSO: "The Vulcan" Erupts at the New York Auto Show
What we see here is the Valentino Camouflage pattern and Maison's iconic studs. There is a lot of carbon fiber inside and out, as well as special leather treatment for the interior of the open-top vehicle.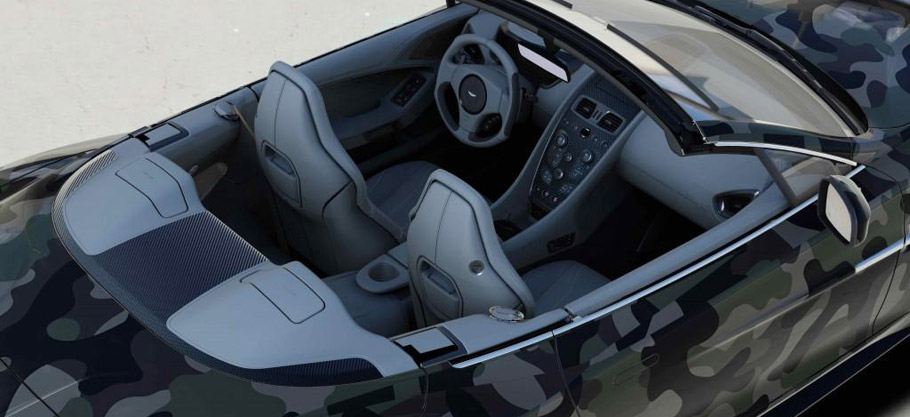 There aren't any other details here, although Valentino has said that the car is "completely customized". So we will have to satisfy with what's before our eyes.
Presumably this also means that this Vanquish Volante sports the same standard 6.0-liter V12 engine, which produces 573 hp (421 kW) and 620 Nm (457 lb-ft) of maximum torque. The V12 under the hood drives the car from 0 to 100 km/h in only 4.1 seconds on its way to a top speed of 294 km/h (183 mph).
Left unmentioned is that the proceeds from this special edition, sold during an auction, will be entirely donated to the three organizations mentioned above.
Source: Valentino