VATH Mercedes-Benz CLS 63 AMG Shooting Brake - 846HP and 1,180Nm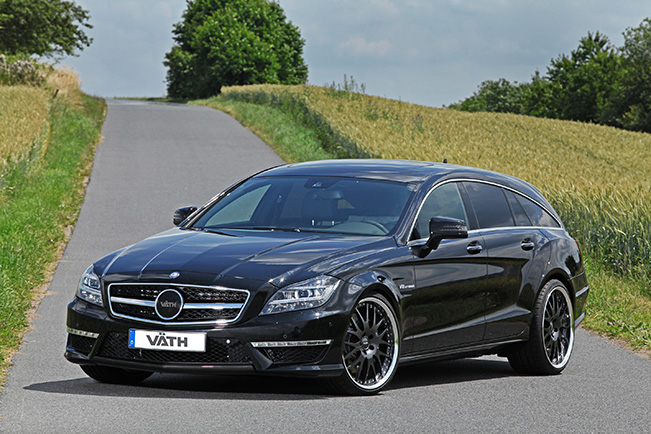 VATH has released their latest project based on the stylish and super-fast Mercedes-Benz CLS 63 AMG Shooting Brake. The tuner equipped the X 218 model with both styling and performance modifications.
The tuning package V63RS boosts the 5.5 liter twin-turbocharged V8 engine to whopping 846HP (622 kW) and 1,180Nm (874 lb-ft) of torque. 0-100 km/h in less than 4.0 seconds and a top speed of 350 km/h (218 mph). The result is thanks to a number of upgrades including – bigger turbochargers, VATH air charge cooling system, a downpipe-system reducing exhaust gas counter pressure and VATH- rear silencer system. There is also an ECU-remap. The price for the complete package is €46,172.
Other upgrades include optional lowering by 20 to 40 mm on the front axle and electronic adjustment of the rear axle – €1,166. A big brake system including 405 mm brake disks with 6-piston calipers on the front -€6010. A fuel cooler costs €1,773 plus €417 for assembly and air conditioning service. Engine oil and transmission oil cooler - €1,166.
The wheel/tyre combination includes 9.5J x 20" with 265/30 ZR20 front and 11.5J x 20" with 305/25 ZR20 rear. The complete set costs €3,375.
The aerodynamics upgrades include a new front spoiler from carbon fiber – €1,416; Rear diffuser from carbon fiber with fins and larger underbody – €2,011.
The interior can be also modified - AC surrounds, ashtray cover in the front, central cover, controller panel, left and right door panels, ventilation system on the left, as well as central decorative cover is refined with classic black carbon in exchange for the original parts -  €3,927. The sports steering wheel in leather/leather design is €1,297, but is also available with carbon or fine wood applications on request. Last, but not least is the the speedometer extension to 360 km/h (220 mph) – €1,535.
Source: VATH