VATH V63 SUPERCHARGED 10/10 Test Drive
Most surely you don't get the chance to test drive a C63 AMG Coupe every day. And more importantly, if such vehicle comes from the factory VATH, you must definitely go with what the moment offers. Here is the attempt to reproduce at least some impressions: having in mind a Porsche, Lamborghini and Ferrari as a stereotype of fast sports cars, lets see what impressions has Vath V63 Supercharged left.
Without a doubt this car has a surplus power according to its operating capabilities. There's a V8 engine with a compressor system, thank to which you can here a mesmerizing and fascinating sound! And if you want to buy it you will definitely have to consider the neighbors and their high noise tolerance! But I am sure that when you get in the car, you won't care anymore about such details. This is because the cockpit of a C63 AMG Coupe was subject to additional power increase by VATH. More importantly it comes along with the irresistible power of 680 hp / 500 kW, 840 Nm / 620 lb-ft of torque. And to accelerate from zero to 100 km/h you will have to wait only 4 seconds. The name V63 Supercharged comes from the tuning kit which includes the individual fine-tuning of engine electroincs as well as a compressor system with VATH water intercooling system. Furthermore the oil in the engine and the gearbox is protected by a special cooling system against possible overheating. With this power, it goes almost impeccably given that there is a high-performance brake system with 380-mm rotors at VA installed essentially. There is of course the Castrol SRF brake oil which is being used for maximum braking efficiency. Furthermore the exhaust system along with its manifold is made out of VA stainless steel and consists of a sport end muffler at a throttle control.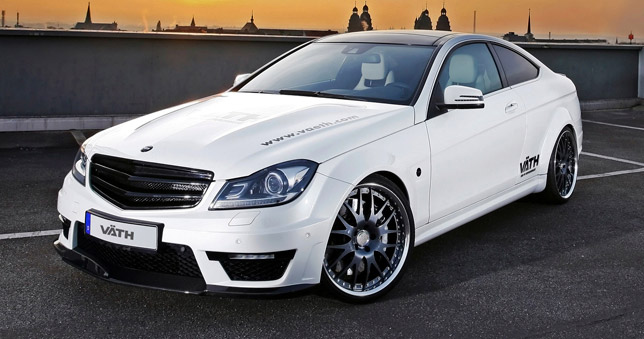 To go further into details there is a visible carbon front spoiler and a visible carbon-fiber rear diffuser with enlarged fins, thus resulting in improved aerodynamics and sporty and elegant look. To optimize the stability of the car at high speeds, VATH developed carbon fender for the rear axle which allows widening the track by 80mm.
Considering the traction between the car and the asphalt - there has been included a three-spike 9x20 inch VATH forged rims  with 255/30-20 tires at VA or 11x20 inch rims with 295/25-20 tires at the rear. Furthermore the coupe has smooth curves and there is also a Clubsport - coilover suspension, which allows lowering within 20-65 mm. When installed, it is possible to adjust the height and hardness resulting in an optimal and safe handling while maintaining comfort.
What is optional in this modification first is the sports steering wheel covered in leather, which can optionally be installed with wood or carbon applications. Another improvement is the speedometer's extension which can reach up to 360 km/h. The highest processing precision and perfect fitting by VATH are of course the indispensable must-be option!
Another benefit to be mentioned is that you can drive the V63 Supercharged in city traffic, because it acts like a "normal" car. Moreover it sneaks slightly angry from one traffic light to another one. On the other hand on the highway the things are absolutely different: the car turns into a street legal racing machine which makes the above-mentioned sports cars characteristics utilizable!
The complete tuning price is 64, 308 EUR.
Source: VATH