Vauxhall Monza Concept at Frankfurt Motor Show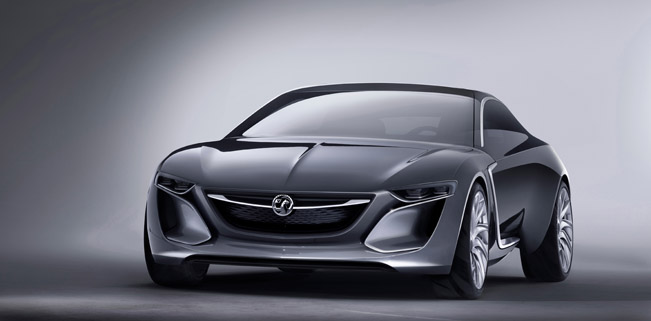 Vauxhall has published some pictures of their Monza Concept, which is expected to make its official debut at the 2013 Frankfurt Motor Show. The futuristic vehicle boasts cutting-edge LED projection infotainment and an evolution of the Ampera's revolutionary powertrain.
The Monza is a 4-seater concept 4,690 mm long, 1,310 mm tall and has been modeled after "ocean waves lapping on the shore". It also has a lot of headroom and a generous cargo capacity of 500 liters. The gullwing doors help getting inside easily.
The interior features a wide and sculpted dashboard that extends from one door to the other which is used as a single projection surface. There are 18 LEDs creating the multi-functional display showing information and decorative elements.
Vauxhall Monza is powered by an electric drive with a compressed natural gas (CNG) range extender. The three-cylinder 1.0 liter SIDI turbo has been modified to run on natural gas giving even better results in fuel economy.
"The Monza Concept represents the Opel/Vauxhall car of tomorrow. On one hand, it embodies everything that already characterises Opel/Vauxhall – precision engineering combined with innovative technologies wrapped in captivating design. In addition, it addresses the themes that will be the development-focus of the next generation of Opel/Vauxhall cars: maximum connectivity and optimum efficiency." ," commented Dr. Karl-Thomas Neumann, Opel/Vauxhall CEO.
Source: Monza