Vilner Recreates the Eternal Battle between BMW and Mercedes-Benz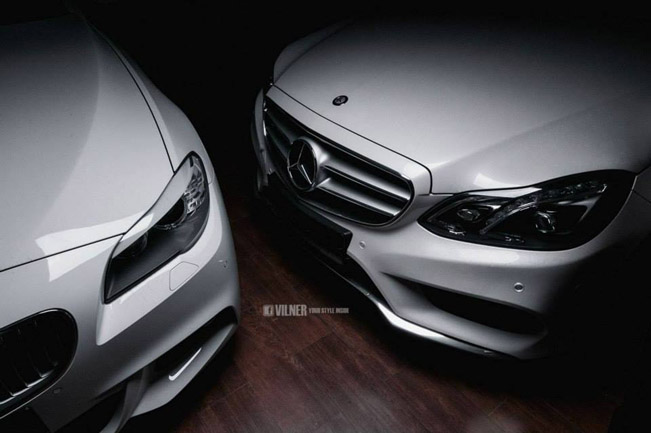 Vilner has released an exclusive interior tuning of two of the most wanted premium cars: BMW and Mercedes-Benz. The eternal competition can be viewed below and it is up to you to decide which vehicle you like better! What is more, the battle is highlighted by two very symbolic colors: blue, which was chosen for the 5-Series, and red, which goes for the E-Class. This surely reminds us of other constant derby – this one between Chelsea and Arsenal soccer teams, or even between Pepsi and Coca-Cola. And if you are fan of the "Matrix" movie series, then you'll definitely think of Neo's dilemma between the blue or red pill.
The tuning of the BMW 5 Series includes a lot but discrete interior modifications. Precisely, the ceiling was covered with black Alcantara, while the plastic door handles received a special coating. In fact, everything is accentuated by a decorative blue stripe.
The blue theme continues with the seat belts, but above all, the most striking element of this tuning is the ergonomic steering wheel covered with perforated nappa leather and Alcantara. The blue pointer on it creates a straight line, while the M-Sport embroidery reminds us of the joy of driving a BMW.
The latest edition of Mercedes' E-Class also grabs the attention. Here, Vilner's therapy is accentuated by the red color. Again, the ceiling was wrapped in black Alcantara and the same treatment was applied on some parts of the seats. Everything is accentuated by a decorative red stripe.
The Bavarian rival shows-off with red seat belts and the AMG embroidery on the headrests of the front seats. The ergonomic steering wheel features perforated nappa leather and Alcantara in black, which is contrasted by a red pointer.
Which one is more aggressive? What do you choose?
Source: Vilner