Vorsteiner Ferrari 599-VX
The debut of the Ferrari 599-VX marks Vorsteiner's first official foray into the Ferrari line of cars. This 599 will only be the very beginning of what is to come for our product applications for Ferrari models.
The concept for the 599-VX project was to create a comprehensive conversion package that encompasses the perfect marriage between lightweight aerodynamics, performance exhaust and wheels.
In typical Vorsteiner fashion, our designers set out to create something that would not take away from the existing bodylines of the Ferrari, but rather to enhance it and take it one step closer to a race car without compromising any functionality, quality and performance.
The 599-VX aerodynamic package is not only aesthetically pleasing, but is also fiercely technologically advanced. It is 70% lighter than the factory pieces which basically consists of a front fascia, louvered racing hood, side sill extension blades, rear fender intake covers, rear deck lid wing and finally a rear bumper with diffuser.
All of the 599-VX aerodynamic components will be made from our latest pre preg autoclave carbon technology for incredible weight savings and uncompromising quality.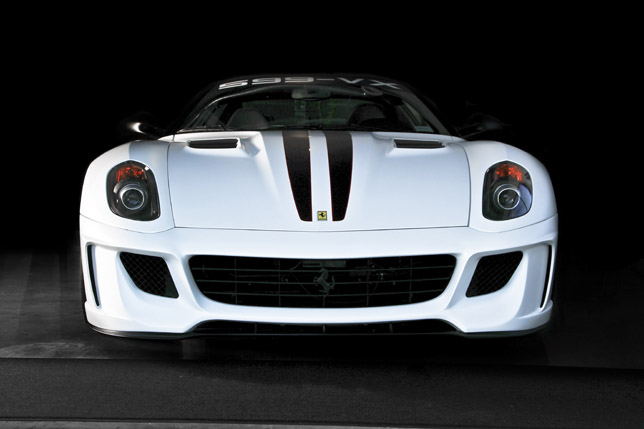 The 599-VX package also includes a limited edition 1-Piece Forged Monoblock wheel that is specifically manufactured for this car. It is a twin 7-spoke racing mesh face that features a true I-Beam spoke profile in conjunction with our latest under cutting pocketing to yield maximum weight savings without any compromise in strength.
The entire exterior skin of the body has been re-masked courtesy of Meguiars & Wraptivo. It consists of the latest in flex vinyl film technology in matte glacier white color with contrasting matte black roof line with red racing accents to pay homage to the grass roots race cars of Ferrari.
Lastly, the 599-VX exhaust was a joint venture between Vorsteiner and BBI and was developed from the ground up in order for it to work harmoniously with our fully redesigned 599-VX rear bumper replacement.
Source: Vorsteiner