Vorsteiner Flow Forged V-FF 102 Wheels for Audi B8 S4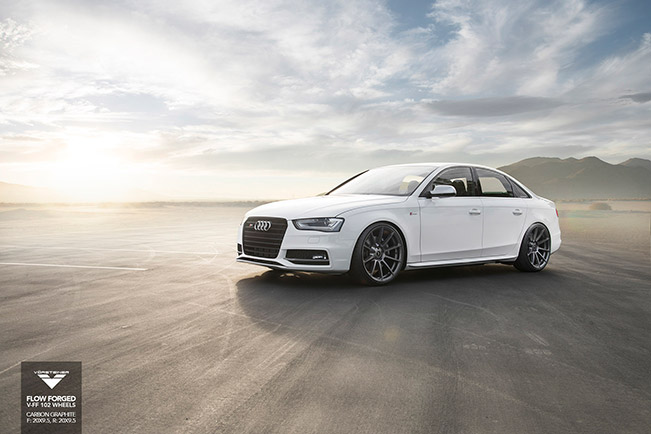 If you have a German car, some of the key characteristics which you would like to highlight on the car are: style, reliability and quality. Hence, in order to contribute to the overall appearance of the driving machine, Vorsteiner keeps coming up with original and high-class products. The tuner is known for its innovative body pieces but it also has a great variety of forged wheels that it offers. Now, the tuning company is pleased to release its latest photos of the brand-new V-FF 102 Flow Forged Wheels.
The model which is able to take advantage of the new sets is Audi S4. It is pictured in Vorsteiner's impressive wheels in Carbon Graphite finish sized 20x9.5 in all four corners. The Concave profile of these V-FF 102's utilizes a 255/30/20 tire for a rub-free fitment even after a moderate drop.
With the new Vorsteiner Flow Forged wheels, this Audi definitely makes a statement. It looks even more sophisticated and ready to conquer the streets.
The Vorsteiner Flow Forged series represent the entry level performance wheels which have almost all of the advantages of the company's forged wheels at only a fraction of the cost. Compared to a conventional cast construction, the implemented Flow Forged Technology is approximately 25% lighter. Nevertheless, it is much stronger. At Vorsteiner they know how to satisfy the requirements and expectations of drivers while providing them with some of the best products in the market.
V-FF 102 Flow Forged Wheels • Wheel Finish: Carbon Graphite • Wheel Size: 20x9.5 Front, 20x9.5 Rear • Tire Size: 255/30/20 Michelin Pilot Super Sports
Source: Vorsteiner