Ford

Ranger Raptor

(

2024

)
Ford Ranger Raptor
It's finally here! The brand new 2024 Ford Ranger Raptor is on its way to North America. This beast of a vehicle is built with an unwavering commitment to top-notch performance, featuring a rock-solid suspension design, formidable power, cutting-edge technology, and an undeniably rugged look. No matter what kind of terrain thrill-seekers throw its way, the Ranger Raptor is more than up for the challenge. Get ready to take on the wildest adventures with this bad boy!
"Ranger Raptor is the high-performance off-road truck so many customers have been begging for. It's right-sized for tight trails and daily life, can carry lots of gear, and is a blast to drive. Ranger Raptor is fast, comfortable, and packed with top-shelf, purposeful technology that's designed to perform. This is the baddest Ranger we've ever made."- Carl Widmann, Ford Performance chief engineer
Confident Suspension, Purposeful Tech
At the core of every Raptor lies its suspension system. The Ranger Raptor takes things to a whole new level with a purpose-built suspension that features lightweight aluminum upper and lower control arms, as well as a long-travel rear suspension complete with a Watts linkage and trailing arms that provide ultimate control and confidence in off-road environments.
To ensure uninterrupted performance all day long, the Ranger Raptor comes equipped with next-generation FOX™ 2.5-inch Live Valve Internal Bypass shocks that boast coil-overs at the front and piggyback reservoirs at the rear, effectively reducing heat build-up.
Built on a sturdy foundation, the Ranger Raptor reinforces Ranger's fully boxed frame by beefing up key areas such as the front frame rails, front shock towers, rear shock brackets, and suspension mounting points. These enhancements enable the Ranger Raptor to tackle even the most challenging off-road conditions with ease.
The FOX™ Live Valve Internal Bypass system is customizable to the Ranger Raptor's various Drive Modes. These include Normal, Tow/Haul, Sport, Slippery, Off-Road, Rock Crawl, and Baja, all of which are designed to provide improved on-road comfort, off-road control, capability, and ride quality at both high and low speeds.
Each selectable drive mode has a direct impact on the tuning of the engine, transmission, ABS calibration, traction control, steering, throttle response, and even the instrument cluster and touch screen display. The Ranger Raptor's active valve exhaust system can also be customized with several modes, including Quiet, Normal, Sport, and Baja settings. And, for those tricky spots, the Ranger Raptor is equipped with Trail Control™, a feature that allows drivers to navigate tricky terrain while the truck manages the throttle and brakes.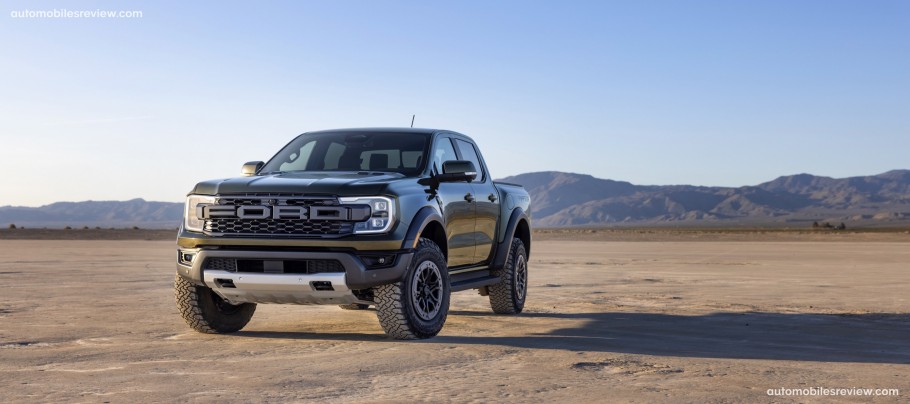 Powertrain Fit for a Class of One
When it comes to the Ranger Raptor, a suspension system this exceptional deserves to be backed up by an equally impressive level of power. That's why the Ford Performance-tuned twin-turbo 3.0-liter EcoBoost® V6 produces a whopping 430 lb.-ft. of torque and an outstanding 405 horsepower, making it the most powerful Ranger ever built for unbeatable performance on any terrain, be it gravel, dirt, mud, or sand.
Thanks to a compacted graphite-iron cylinder block, the engine incorporates a race-bred anti turbo-lag system that allows for boost on demand in Baja mode. This means that even after the driver backs off the throttle, the turbochargers continue to spin for up to three seconds, ensuring that acceleration is readily available while exiting corners. And, with the class-exclusive 10-speed SelectShift® automatic transmission paired with an advanced four-wheel drive system featuring a new electronically controlled on-demand two-speed transfer case combined with front and rear locking differentials, the Ranger Raptor delivers a truly unparalleled driving experience.
Designed for Purpose
In designing the Ranger Raptor, every single element was crafted with a specific purpose in mind. The modern and confident styling starts with LED projector headlights, providing superior illumination at night, complemented by signature C-clamp lighting. The grille features bold F-O-R-D lettering and sits above an all-steel bumper with frame-mounted front and rear tow hooks, while the LED taillights provide a signature C-clamp link to the front. The flared fenders, complete with functional fender vents, accommodate aggressive 33-inch BFGoodrich® all-terrain KO3® tires on 17-inch wheels, which can be mounted on optional beadlock-capable wheels with available bead locks for running extra low tire pressures in sand and rocky conditions. Underneath, the Ranger Raptor boasts serious underbody protection, including a thick front bash plate made of high-strength steel and dedicated engine, transfer case, and fuel tank shields.
Inside the cab, the Ranger Raptor is built for high-performance driving. The sport steering wheel features cast magnesium alloy paddle shifters for quick transmission control and a signature Raptor centering mark in a striking Code Orange color. Six overhead upfitter switches, mounted in the overhead console, make it easy to power off-road hardware. The unique Ford Performance front seats are designed for maximum support, with extra bolstering to hold drivers in place during high-speed cornering. And the rest of the cab is fitted with premium materials, trimmed in Code Orange to complete the overall look and feel of this impressive vehicle.
That's quite impressive! Winning the Baja 1000 is a significant achievement, and completing the race and then driving home is a testament to the Ranger Raptor's durability and performance. The Ranger Raptor's features, including the advanced suspension, powerful engine, and off-road technologies, make it a compelling option for adventure seekers looking for a capable and rugged truck. The connectivity features, such as the digital instrument cluster and infotainment system, also provide convenience and entertainment while on the road. The Raptor family's expansion across Ford's truck and SUV lineup shows the automaker's commitment to offering high-performance vehicles for enthusiasts who want to push the limits of what their vehicles can do.