Hennessey

VelociRaptor 500 Bronco

(

2023

)
Hennessey VelociRaptor 500 Bronco
Hennessey, a high-performance vehicle creator from Texas, has started delivering its new 500 bhp VelociRaptor 500 Bronco Raptor to customers. The company's engineering team approved the upgraded version of Ford's factory Bronco Raptor after testing it in the cold weather of Colorado's snowy mountains. This approval allowed production and deliveries to begin at Hennessey's Texas headquarters.
For over 30 years, Hennessey's engineers have been improving fast cars. They used their expertise to enhance the twin-turbocharged 3.0-liter V6 engine of the SUV to make it more powerful and drivable. By installing a new high-capacity intercooler and using a proprietary engine management system tuning, they improved charge cooling and increased intake boost, resulting in a total system power of 500 bhp and 550 lb-ft of torque, which earned the nameplate 'VelociRaptor 500.' These figures were proven on a dyno.
The Hennessey team went to Colorado last month to test the upgraded 4x4 in the Rocky Mountains. The winter conditions were tough with snowstorms and freezing temperatures, but the vehicle with Hennessey's unique 20-inch alloy wheels and 37-inch off-road tires handled it well. The challenging conditions didn't stop the team from completing the low-temperature, high-altitude testing.
John Hennessey, company founder, and CEO: "The VelociRaptor 500 Bronco is one of our most agile and capable off-road offerings — it's nearly unstoppable off the pavement. Our 500 horsepower upgrade pairs perfectly with Ford's rugged Bronco Raptor 4×4 as we improve upon the factory's high-performance offering and enhance it with more power and a more aggressive appearance."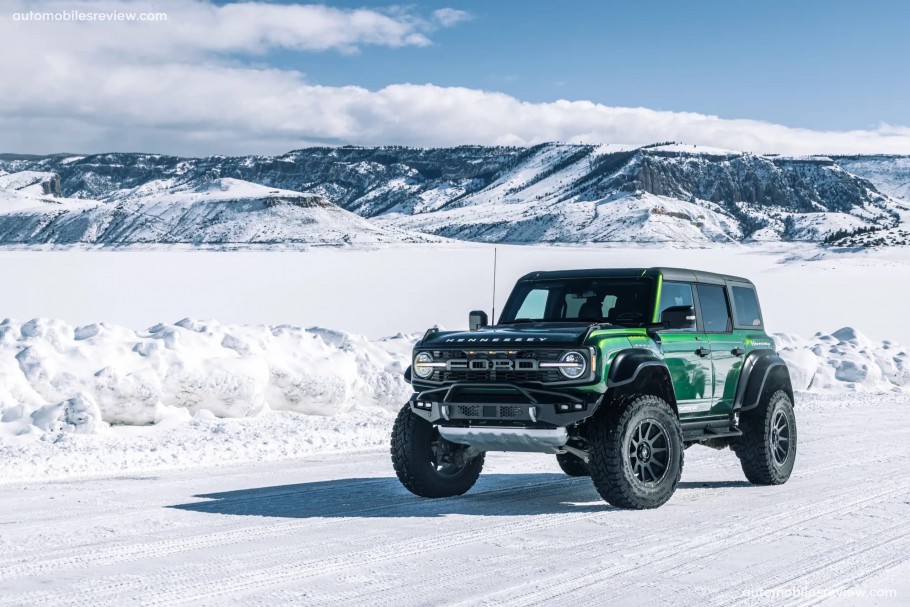 The VelociRaptor 500 package starts at $28,950, not including the base Ford Bronco Raptor. It includes upgrades to the twin-turbocharged 3.0-liter V6 engine, such as enhanced air induction, a high-capacity intercooler with a blow-off valve, and an improved engine-management system. Hennessey also makes exterior changes by adding custom VelociRaptor bumpers, LED off-road lights, unique Hennessey 10-spoke alloy wheels, and VelociRaptor 500 Bronco badging. Inside, there are Hennessey embroidered head restraints, all-weather floor mats, and a unique build number plaque.
Hennessey has conducted thorough R&D at its private test track and in extreme on- and off-road conditions. As a result, the company confidently offers a comprehensive 3-year / 36,000-mile warranty on every Bronco build.