Anderson S8 Venom Edition
Audi has been a major player in the luxury class for over sixteen years now. It all started with the arrival of the A8 which carried some image-defining technology such as permanent all-wheel-drive and a body made from aluminium. Today it is a worthy adversary against the giants from BMW and Mercedes-Benz.
Now the Audi S8 (the performance edition of A8) has undergone an impressive makeover supervised by the capable ANDERSON Germany. Say hello to the S8 Venom Edition. Let us start with the paint - the overall body is in satin grey matte while various bits and pieces such as the radiator grill, the logos, the door handles and the panels are in glossy black. The added body kit consists of a front apron which has LED lights, a rear one as well and also a pair of side skirts. The fenders now house two striking air intakes while the tinted windows and tail lights in turn, give a certain menacing look to the car. Noticeably lowered, the S8 sits on four massive 265 tires with shiny black callipers peaking out from the 22 inch rims. Carbon fibre is applied on the side view mirrors, tail flapper and the grille frame.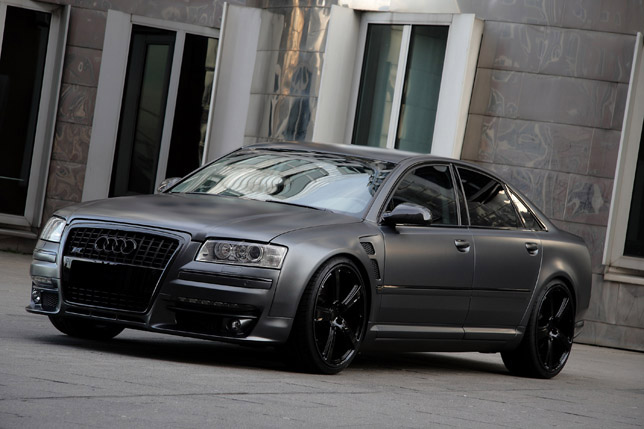 The carbon trend continues inside as well as the exclusive sports steering wheel, door panels and the centre consoles are all deliciously garnished with fibres. Otherwise the interior is a feast of grey leather and light grey Alcantra (a unique and innovative covering material). There is also something for the teenager in all of us (or our kids I suppose) - A neat sound system complimented with headrest monitors and a Playstation 3.
ANDERSON is not all about style and glamour. Yes, now you can adjust the sounding of the exhaust pipes with a remote control but they have also fiddled with their weight and thus increased the power by 16hp. Not only that but they have also tuned the engine management system, fitted a sports filter and a racing catalyst and the result is 442bhp as opposed to 350bhp.
Undeniably, ANDERSON Germany is working for the image of the A8 which already is underneath the spotlight thanks to a number of appearances in the media and politics.
Source: Anderson Germany