2011 Infiniti M37S
Red Bull Racing driver Mark Webber began his preparations for the British Grand Prix early this week. He had some fun at the race track with a high performance Infiniti M37S.
Webber demonstrated the true performance of the road car, lapping at high speed in varying conditions. He also completed an in-depth interview looking ahead to this weekend. Last year, Mark took a memorable victory in Red Bull Racing's home, so the expectations this year are huge.
Infiniti M37S is powered by a 3.7-litre V6 petrol with VVEL delivering 320ps (235 kW) at 7000RPM. The engine is mated to a 7-speed automatic transmission with manual mode & magnesium paddle shifts and all power is put on the road through the rear wheels. 0 to 100km/h takes 6.2 seconds.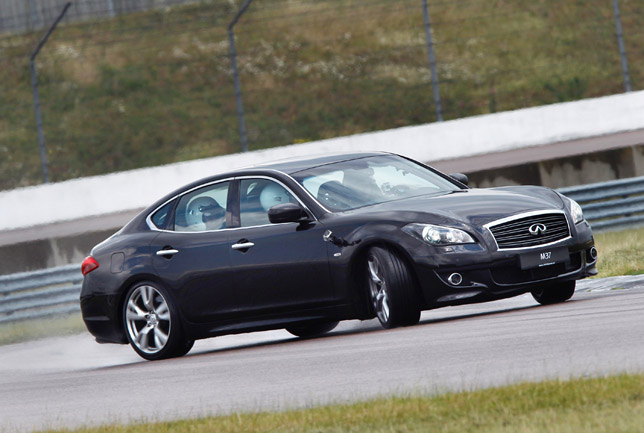 2011 Infiniti M37S
Engine: 3.7-litre V6 petrol VVEL (Variable Valve Event & Lift)
Power: 235kw (320ps) at 7 000RPM
Transmission: 7-speed automatic transmission with manual mode & magnesium paddle shifts Rear-wheel drive with four-wheel active steer (4WAS)
Performance: 0-100km/h: 6.2 seconds
Source: Infiniti