2011 Top 10 Tunings
If you wonder which are the most creative and astonishing tunings that we have seen during the almost gone 2011, here we have picked 10 of the most impressive ones. There were several factors that have been considered in order to make this top 10. First of all exterior tuning, next is the overall improvement in the performance, and at last is the changes made in the interior.
This unique Vilner design has made it through in our top 10. Vilner Saturn Sky boasts nice oriental blue exterior combined with a red interior. The tuner also included LED daytime running lights for the front bumper. However there is more attention put on the interior: it includes black Alcantara and carbon fiber trim parts, as well as new dials, a carbon fiber steering wheel and new upholstery. In the package is also included a newly fitted high-end Ground Zero sound system. Unfortunately there is nothing done to improve the performance of the car. It comes with its standard 2.0 liter four-cylinder turbocharged engine with 260PS (194 kW) and 353Nm (260 lb-ft) of torque. From 0 to 100 km/h it accelerates in just 5.5 seconds.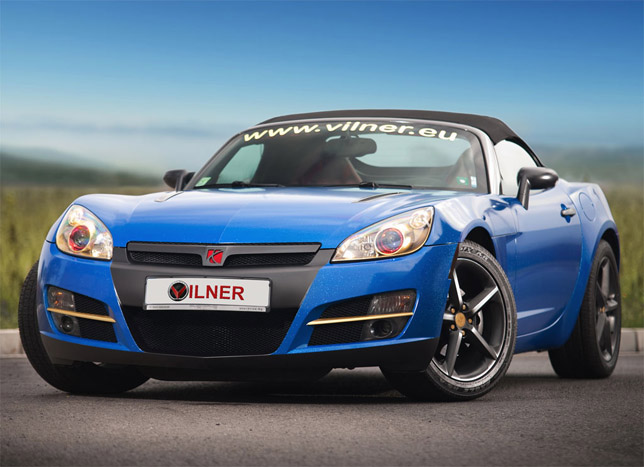 | | |
| --- | --- |
| Exterior: | [rating:5/10] |
| Interior: | [rating:10/10] |
| Performance: | [rating:2/10] |
The next place in our chart goes for this beautiful tuning of Range Rover Evoque. As you can see it grabs the attention with its red tires, strange rims and a lot of carbon fiber all. The SUV also has an improved body kit which features redesigned front bumper and aluminum bonner with integrated air intakes, and a new rear bumper with an integrated carbon diffuser. In addition there are also carbon wheel arches, boot handle, bottom door guards and mirror covers. Furthermore the interior is improved by a lot of carbon fiber and some Alcantara. The last "touch" are the 20" OZ Racing Dakar wheels wrapped in 255/30 ZR20 red M-Power tires. To improve the overall performance of the car the Marangoni Range Rover Evoque comes with 60PS (44 kW) more, which means a total of 300PS (225 kW) from the 2.0 liter turbocharged four-cylinder petrol engine. In addition the performance is further improved by a complete braking system – Tarox B360 with 10-piston calipers and and 330×26 mm composite disks.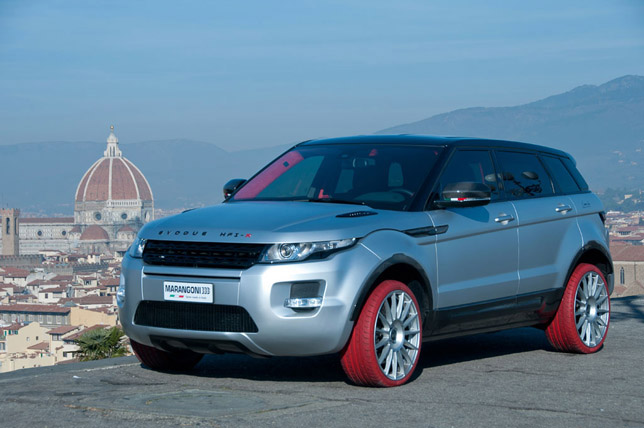 | | |
| --- | --- |
| Exterior: | [rating:9/10] |
| Interior: | [rating:4/10] |
| Performance: | [rating:5/10] |
BMW ALPINA B6 BI-TURBO CONVERTIBLE
BMW Alpina B6 Bi-Turbo Convertible tuning is based on the well known 650i model. It has all-aluminium bi-turbo V8 power plant which boasts 507PS (373 kW) and staggering 700Nm (516 lb-ft) of torque. It accelerates from0 to 100 km/h in just 4.8 seconds and its top speed is 311 km/h (193 mph). Moreover Alpina B6 Bi-Turbo Convertible also comes with complete aerodynamic package including front and rear bumpers and side skirts. There are also a four-tailpipe Akrapovic sports exhaust system and huge 20" alloy wheels. Concerning the interior the B6 Bi-Turbo Convertible has just the extensive range of standard equipment, which includes leather upholstery, fully adjustable comfort seats with heating system, navigation system with preparation for Bluetooth mobile phone, USB audio interface, Xenon lights and LED fog lights. Unfortunately there isn't any upgrade in the interior. For this reason this special car has the number eight in our chart.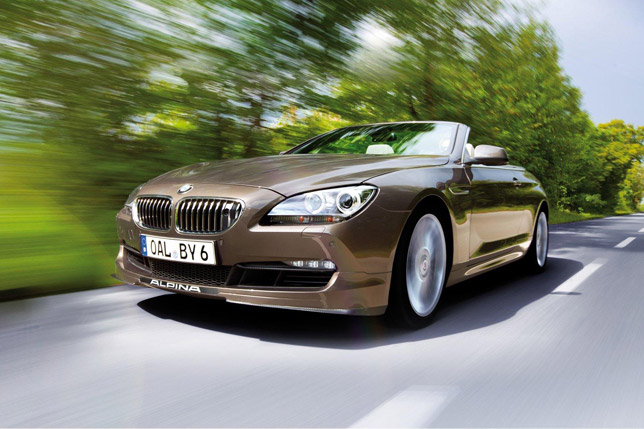 | | |
| --- | --- |
| Exterior: | [rating:7/10] |
| Interior: | [rating:5/10] |
| Performance: | [rating:7/10] |
OAKLEY DESIGN LAMBORGHINI AVENTADOR LP760-2
This Lamborghini Aventador LP700-4 is an every-day road-going car with great power and specifications. Oakley Design's tuning of it is called LP760-2 and the model is only rear wheel drive. The vehicle has been stripped of its front differential and related components, so it is much lighter – totally 85 kg (187 pounds). Furthermore, the 6.5 liter V12 engine is upgraded to gain another 71PS and 55Nm. Hence, the total output is 771PS (567 kW) and 745Nm (550 lb-ft). In addition this amazing tuning stands on enormous Oakley Design P40 wheels with dimensions 9.0J to 9.5J x 19" at the front, and from 12.0J to 13.0J x 20" at the rear fitted with ultra-performance 255/35ZR19 and 355/30ZR20 Pirelli PZero tires. Further modifications are made on the aerodynamics which features: modified front bumper, new side skirts, revised rear bumper with a new diffuser. The car also comes with a carbon fiber roof for further weight saving and stylish improvement.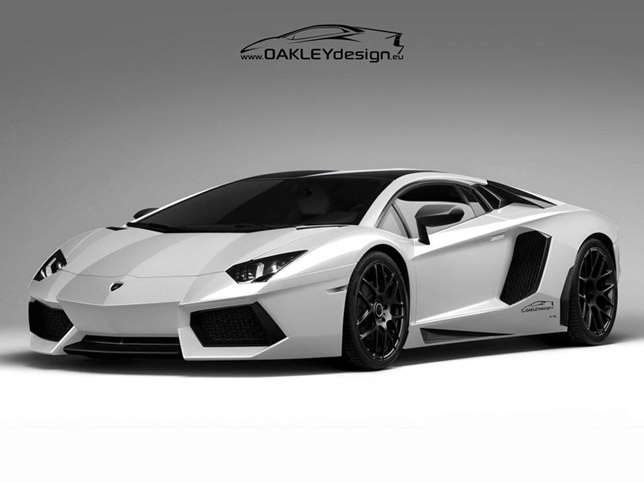 | | |
| --- | --- |
| Exterior: | [rating:7/10] |
| Interior: | [rating:6/10] |
| Performance: | [rating:7/10] |
Hennessey Performance ultra-fast beast – 2011 Venom GT has deserved its place in our top 10. First of all it has astonishing exterior, finished in passionate red body color. Furthermore it is powered by an in-house tweaked 6.2-liters V8 twin-turbo powerplant which is linked to a Ricardo 6-speed gearbox, the Chassis Number 03 – Venom GT is capable of producing the breath-taking figures of 1,200 horsepower and 1,155 lb-ft of peak torque, while boasting a curb weight of just 2,685 pounds! The HPE Venom GT is based upon a completely re-designed Lotus chassis, packed with all-new front and rear space frames as well as state-of-the-art carbon-made body with automatic rear wing that contributes remarkably for the super ride's drivability at high speeds.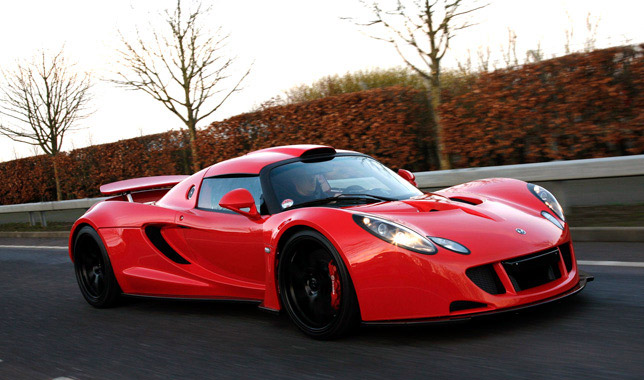 | | |
| --- | --- |
| Exterior: | [rating:7/10] |
| Interior: | [rating:7/10] |
| Performance: | [rating:7/10] |
The next place goes for Porsche GT3 with the tuning package from Magnat and Wimmer. Here the mighty 3.8 liter flat-six received updated software and modified exhaust system including sport catalysts and suction tubes optimization. The overall result in power optimization is 462HP (340 kW) and 451Nm (334 lb-ft). The top speed is 317 km/h (197 mph). Snowmobile Porsche GT3 stands on Ultraleggera HLT CT by OZ in 8.5J x 19" and 12J x 19" fitted with 235/35 ZR19 and 305/30 ZR19 Yokohama Advan Sport tires. What about the interior: Magnat has used materials from highest quality such as leather, Alcantara and high gloss paintwork. All this let the GT3 shine in its unique design, the dynamic diamond patterns setting sportive and, in the same time, exclusive accents. In addition there is an audio system with 2100 WATTS.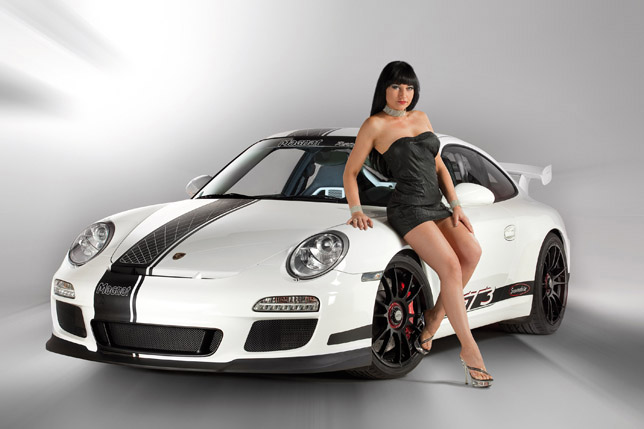 | | |
| --- | --- |
| Exterior: | [rating:7/10] |
| Interior: | [rating:7/10] |
| Performance: | [rating:8/10] |
MERCEDES SLR BLACK ARROW BY EDO COMPETITION
Edo Competition's SLR Black Arrow is an extremely powerful vehicle that incredibly quickens the pulse when its pedal hits the metal. Based upon the renowned Mercedes-Benz SLR McLaren Coupe, the edo competition's SLR Black Arrow conversion benefits a special, stealth-like exterior finish, a new high-tech stainless steel exhaust unit as well as sleek, 21-inch lightweight racing alloys wrapped in high-performance rubber.
In the power compartment, the revised McLaren SLR Coupe's hand-built 5.4-liters, supercharged V8 plant now tops the extraordinary figure of 722 horsepower at 7,100 revolutions and 890 Nm of peak torque, resulting in top speed of 345 km/h and only 3.4 seconds for 0-100km/h acceleration sprint. Furthermore, the edo SLR Black Arrow has premium leather/alcantara upholstery, special steering wheel with shift paddles and custom carbon applications on the dashboard, center console and door panels. A high-end sound system with navigation, phone, TV and iPod, as well as a reversing camera add even more exclusivity to this already iconic ride's re-styled cockpit.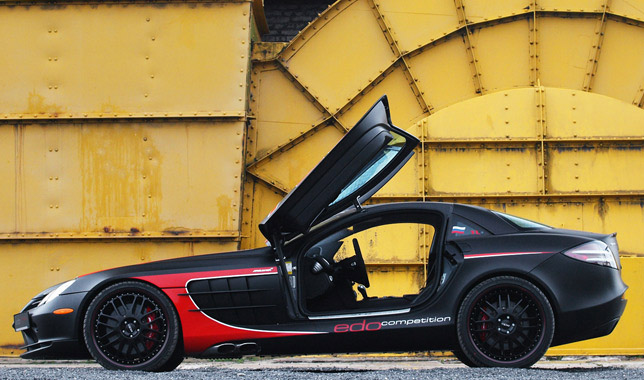 | | |
| --- | --- |
| Exterior: | [rating:7/10] |
| Interior: | [rating:8/10] |
| Performance: | [rating:8/10] |
EDO COMPETITION KOENIGSEGG CCR
Edo Competition makes it with another tuning in our chart. This time the car is Koenigsegg CCR, which is the next level above super sport like the mighty Lamboghinis, Ferraris and Porsches.
CCR is powered by a 4.7 liter twin-supercharged V8. Edo Competition boosted the engine of this beast to the whopping 891PS (655 kW) thanks to an ECU re-map. The drive ratio is also improved to gain the hyper car better stability and faster acceleration. The top speed is 390 km/h (242 mph). There are also improvements in the interior, which has received Alcantara upholstery, a redesigned center console, a new infotainment system, and a tire pressure monitoring system that has a display integrated into the dashboard.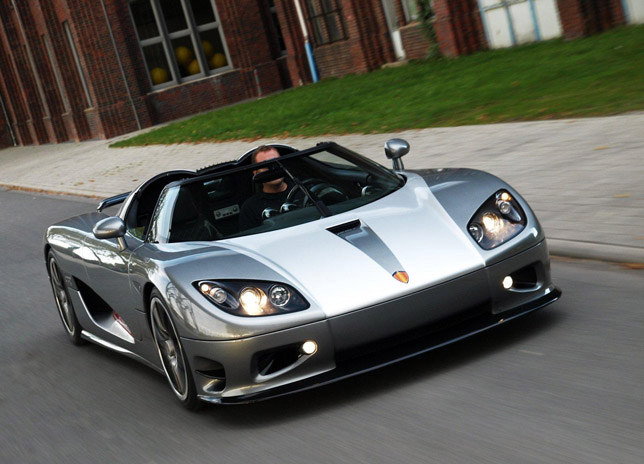 | | |
| --- | --- |
| Exterior: | [rating:8/10] |
| Interior: | [rating:8/10] |
| Performance: | [rating:8/10] |
This ABT Audi R8 GT S got the place of number two in our chart not only because of the incredible outlook it has, but also because it produces 620PS (456 kW). This is due to the 5.2 liter V10 engine, which has received a number of upgrades. The convertible stands on enormous 20" ABT BR alloys or 19" CR Superlight rims. There are also some improvements in the interior: red carbon on almost every single detail, sports steering wheel, centre console, shifting gate and parts of the door panels. The remaining parts of the doors and the dashboard are upholstered with new leather. We can't go further without mentioning the red safety belts and illuminated door sill panels for the overall powerful appearance of the ABT R8 GT S.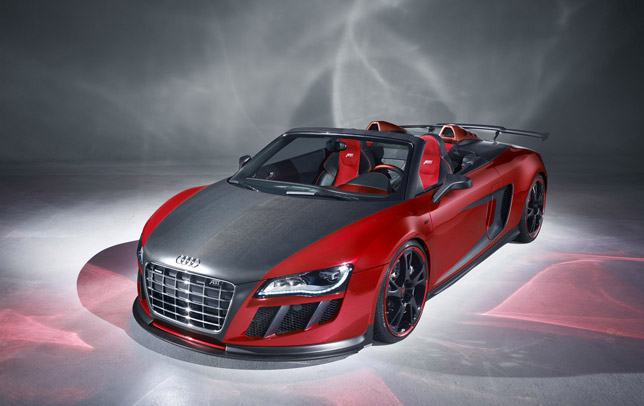 | | |
| --- | --- |
| Exterior: | [rating:9/10] |
| Interior: | [rating:8/10] |
| Performance: | [rating:8/10] |
And the first place goes to…. Wiesmann's Black Bat! The company SchwabenFolia in Korntal-Münchingen situated in Baden-Württemberg has created this astonishing Wiesmann MF5 V10 Roadster.  The project name is Black Bat because it represents the ultimate Batmobile in reality! Everything is tuned in this car. Firstly this vehicle comes with an extra matte black exterior, door panels, engine room and the inner hood, as well as the completely foiled trunk and inner flap. This breathtaking tuned car is powered by the brilliant S85B50 – 5.0 liter V10 with 507PS (378 kW) at 7750RPM and 520Nm (384 lb-ft) of torque at 6100RPM. Furthermore the BMW's Performance engine includes cast aluminum block with bed plate design split at the crankshaft axis, cast aluminum heads with four valves per cylinder and CNC machined ports and combustion chambers. All these engine boosts result in enhanced acceleration, which for the standard 0-100 km/h takes only 3.5 seconds. Moreover the top speed is more than 321 km/h (200 mph). You can see how amazingly this car looks. Its movie-like appearance is improved by the enormous BBS forged alloy wheels 10J x 20" with 285/30 ZR20 tires at the front and 11.5J x 20" with 325/25 ZR20 on the rear axle. Behind them, there are brembo 6-piston calipers with 308 x 32 mm perforated compound brake discs and 4-piston calipers with 380 x 28 mm discs at the rear. The interior is also enhanced thus: all in the interior is covered with high quality leather which gives the car the perfect finish! All results in the overall weight of 1395 kg. No doubt now that this car deserves the first place!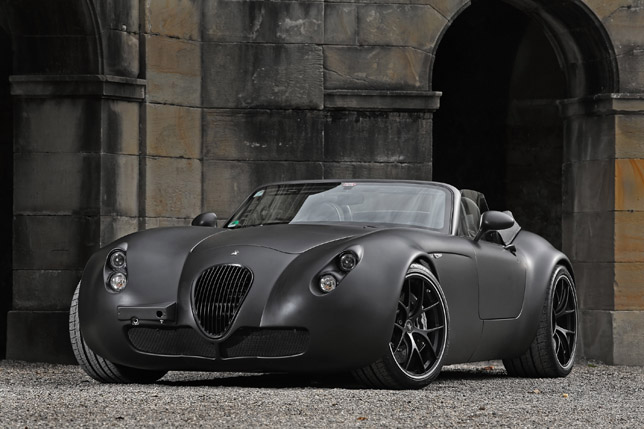 | | |
| --- | --- |
| Exterior: | [rating:10/10] |
| Interior: | [rating:8/10] |
| Performance: | [rating:9/10] |