BMW Alpina B6 Bi-Turbo Convertible
One of the most interesting and eagerly awaited cars was revealed at the 2011 Frankfurt Motor Show. BMW Alpina B6 Bi-Turbo Convertible is based on the well known 650i model.
The all-aluminium bi-turbo V8 power plant boasts 507PS (373 kW) and staggering 700Nm (516 lb-ft) of torque, which is an increase of 100PS (74 kW) and 100Nm (74 lb-ft). So, there is no coincidence. 0 to 100 km/h in 4.8 seconds and a Vmax of 311 km/h (193 mph). Still, the vehicle manages to achieve an average 10.9 litres per 100 km and 255 g/km of CO2.
Alpina B6 Bi-Turbo Convertible also comes with complete aerodynamic package including front and rear bumpers and side skirts. There are also a four-tailpipe Akrapovic sports exhaust system and huge 20" alloy wheels in the well-known design fitted with Michelin Pilot Super Sport tires.
The B6 Bi-Turbo Convertible features an extensive range of standard equipment, including leather upholstery, fully adjustable comfort seats with heating system, navigation system with preparation for Bluetooth mobile phone, USB audio interface, Xenon lights and LED fog lights.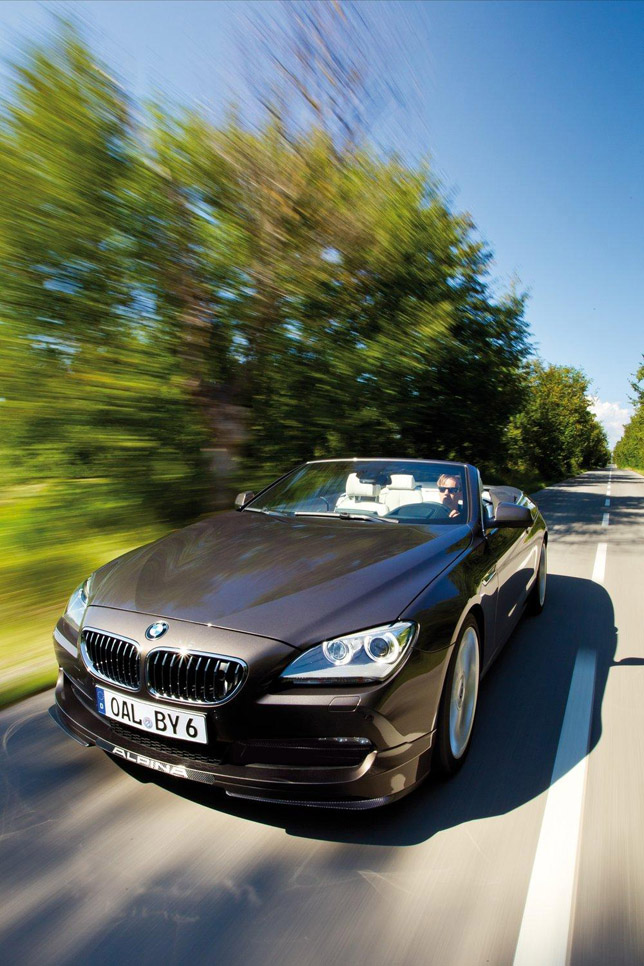 Source: Alpina