BMW Alpina B6 vs Lamborghini LP-560-4, BMW M6 G-Power, BMW X6 M and GT-R 1200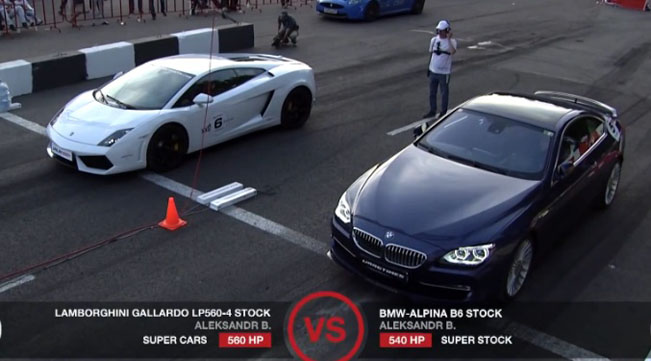 A stock BMW Alpina B6 F13 made some drag starts versus some powerful vehicles – BMW M6 G-Power SK III with 750HP, BMW X6 M PP-Performance Stage 4 – 760HP, a stock Lamborghini Gallardo LP560-4 and a superfast Nissan GT-R Mk.1 DT 1200 R with 1200HP. The Alpina B6 F12 has only 540HP and it is not exactly the perfect car for 1 mile race.
The first start is versus the M6 G-Power, which did 30.499 seconds and a terminal speed of 283 km/h. The Alpina B6 finished in 31.168 seconds with 272 km/h.
The second start is against X6 M PP-Performance, which is winner of 3rd place in SUV Class 2013. The big SAC finished in 28.837 seconds with 279 km/h.
Versus the Gallardo, the Alpina lost again. The Lamborghini finished in 30.095 seconds with speed of 275 km/h.
The last start is doomed, because the GT-R has more than twice power compared to the B6 F12. The DT 1200 R finished in 25.362 seconds with 321 km/h.
Source: Dragtimesinfo