2012 BMW Alpina B6 Bi-Turbo
Alpina has announced 2012 B6 Bi-Turbo featuring all-aluminium V8 power plant with two turbochargers delivering stunning amount of power.
2012 Alpina B6 Bi-Turbo has a twin-turbo 4.4 liter V8 with 540PS (397 kW) at 5500RPM and 700Nm (516 lb-ft) of torque at just 3000RPM. Two turbo-chargers configured in parallel, each feeding one of the two cylinder banks, with specially developed large diameter exhaust-turbines allow this engine configuration to provide both exceptional power output and an abundance of torque over an especially broad rpm range while maintaining excellent throttle response at low rpm.
High-performance MAHLE pistons are designed specifically to deal with temperatures and pressures associated with up to 1.0 bar charging and the engine's 9.2:1 nominal compression ratio. Altogether this results in an impressive specific output of 122.7hp (90kW) per litre and a mean total compression of 20.1 bar. Direct injection and Double-VANOS contribute to the B6 Bi-Turbo's class-leading consumption and emission figures: 10.5 l/100km and 244 g/km CO2, Combined cycle, measured according to ECE Norm.
The performance is simply astonishing – 0 to 100 km/h in 4.4 seconds, which is exactly the same as the latest M5 F10 and a top speed of 320 km/h.
The engine is mated to SWITCH-TRONIC 8-speed Sport Automatic Transmission by ZF. It offers Sport Shift Mode (S) and Manual Shift Mode (M).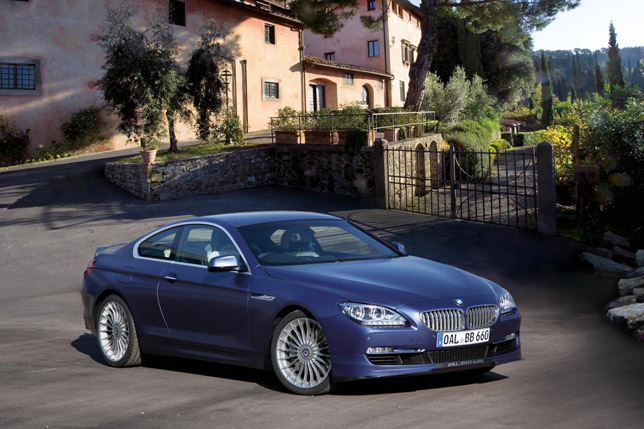 The suspension comes with specific springs, increased front wheel camber and a subtle adjustment of the toe-in in conjunction with a 20" wheel-tyre combination all serve to produce a very agile chassis set-up. The lightweight 20" Alpina CLASSIC wheels, with MICHELIN PILOT SUPER SPORT tyres in the dimensions 255/35 ZR20 front and 285/30 ZR20 rear, contribute significantly to the direct handling and precise steering. Conventional tyres are used to promote ride comfort. There are also Drive Performance Control (electronically adjustable dampers) and Dynamic Drive (active roll stabilization) as standard.
The exterior boasts aerodynamics body kit including a new front spoiler with carbon fiber splitter and a rear spoiler with a rear wing, which is available as an option. All these components also ensure the effective flow of air to various cooler groups, such as the inter-coolers and engine cooling system. One special detail: the high-performance brakes, with a diameter of 374mm front and 345mm rear, are additionally supplied with cooling air by a specially constructed NACA air intake on the front underbody.
The interior comes with blue Alpina instruments with high resolution information display with black panel LCD technology. There are also a sport steering wheel, hand-stitched in LAVALINA leather, blue illuminated entry sills with logo and classic Alpina myrtle wood.
The B6 Bi-Turbo features an extensive range of standard equipment, including leather upholstery, fully adjustable comfort seats with heating system, navigation system with preparation for Bluetooth mobile phone, USB audio interface, Xenon lights and LED fog lights.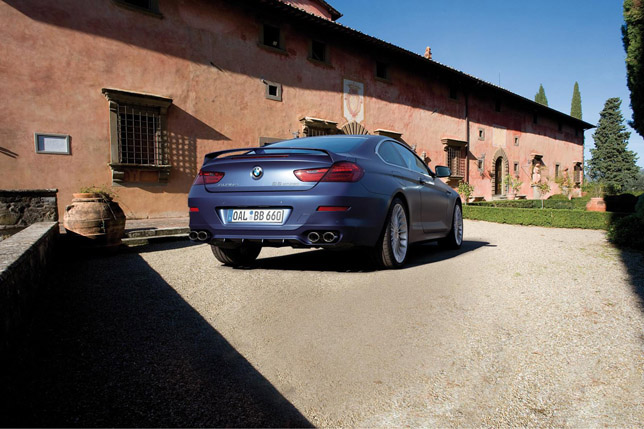 Source: Alpina