2012 Aston Martin V12 Vantage GT3
Aston Martin confirms today the specification of the 2012 Vantage GT3 race car. As the natural successor to the enormously successful DBRS9, the new Vantage GT3 will offer customers the latest in race-car technology to ensure the Vantage GT3 has the credentials to compete with the most recent new product offerings from other manufacturers.
The Vantage GT3 features a modified version of Aston Martin's production 6.0 litre V12 engine found in the marque's highly acclaimed sports cars. The dry-sumped engine is expected to produce 600 bhp with 700 Nm of torque and its position has been optimised further to improve weight balance. A carbon fibre propshaft mates the engine to a Xtrac 6 speed sequential transmission with semi-automatic paddle shift gear change.
The Vantage GT3 benefits from Aston Martin's V/H architecture philosophy, the modular chassis uses aerospace bonding techniques to create a light and immensely stiff aluminium and composite structure which not only aids handling on Aston Martin's road cars but is also an ideal base for competitive race cars.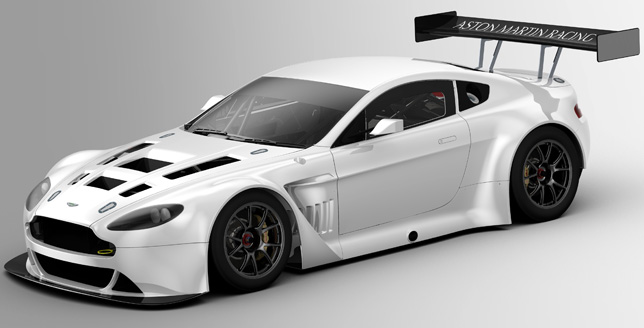 Most dramatic of all, are the new aerodynamics, contributing to a muscular and purposeful stance while maintaining the overall beauty of the V12 Vantage. The shorter wheel base and lower engine position over its predecessor will contribute to enhanced handling and performance. The new car will also provide enhanced driveability with the latest race-developed ABS and Traction Control systems which are fitted to the V12 Vantage GT3 as standard.
The Vantage GT3 will be eligible for numerous race series around the world including the FIA GT3 Championship, ADAC Masters, Nurburgring VLN, Blancpain Endurance Series, British GT, Belcar and Open GT among others.
Aston Martin remains the only manufacturer to offer a race car for every GT class firmly cementing it as a global forerunner in race car production. The new Vantage GT3 is being developed to replicate and indeed surpass the superb track record of the DBRS9.
Aston Martin has sold 24 DBRS9s and customer teams have accumulated many race podiums and victories over the past six years including 2009 Winner Teams Championship, and Winner Manufacturers Championship for Hexis Racing and as recently as a 2011 GT Open race win at Spa for Villois Racing.
Testing of the new car will commence in October, where the Vantage GT3 will undergo a comprehensive sign-off durability test including a 10,000 km test programme. Deliveries of the first cars will commence in early 2012. Prices start from £298,000.
V12 Vantage GT3 Specification
Engine
Lightweight V12
Dry sump oil system
Engine repositioned to optimise weight distribution
Target power 600 bhp
Target torque 700 Nm
Transmission
Xtrac 6 speed sequential transmission
Racing clutch
Limited slip ramp/plate differential
Easily accessible drop gears
Semi-automatic paddle shift gear change
Carbon fibre propshaft
Chassis
Lightweight aluminium chassis
Steel roll cage to FIA safety standards
High speed pneumatic jack system
Steering
Hydraulic power assisted steering
Quick release steering wheel
Suspension
Double wishbone suspension arms front and rear with uniball bearings
2-way adjustable dampers front and rear
Optimsed geometry for lower race ride height
Fuel system
110 litre fuel cell to FIA safety standards
Twin quick release couplings
Fuel cell location optimised for performance and safety
(behind the driver's seat, inside the safety roll cage)
Brakes
6 pot front calipers
Ventilated front brake disc
4 pot rear caliper
Ventilated rear brake disc
Floor mounted pedal box
Manually adjustable front/rear brake bias
Adjustable motorsport ABS
Wheels
12.5" x 18" front
13" x 18" rear
Tyres
Front 30/68-18
Rear 31/71-18
Cockpit
Steering wheel mounted controls
Driver display / data logger / shift lights / beacon
6-point safety harness
Adjustable steering position
Adjustable seat position
Adjustable pedal box position
Light weight battery
Carbon fibre dash
Fire extinguisher system
Aerodynamics
Front splitter
Adjustable full width carbon fibre rear wing
Aerodynamically optimised bumpers, fenders and sills
Weight
Source: Aston Martin