2012 Aston Martin Vantage GT4
Aston Martin will reveal the new 2012 Vantage GT4 at the Geneva Motor Show, next week. The revised sports car features an all-new aerodynamic package plus further improvements to the rollcage and fuel tank.
The aerodynamic package includes a carbon fibre rear wing, which generates a lot of downforce, especially combined with a new larger front splitter.
The re-designed rollcage conforms to the latest FIA regulations and improves access and legroom.
Last improvement is the mid-mounted, 115-litre fuel tank, which lowers the centre of gravity and helps for better weight distribution. The fuel tank has twin quick-fill entries in the rear quarter.
The Vantage GT4 is powered by a 4.7 litre V8 with 436PS (321 kW) at 7300RPM and 490Nm (361 lb-ft) at 5000RPM.
The price is £119 500.
"We have taken the opportunity to make some quite dramatic aerodynamic enhancements to the Vantage GT4, which will close the performance gap between this entry level GT car and the GT3.  We have also fitted the car with the same roll cage and fuel tank configuration that's found in the Vantage GT3 and GTE. We are about to sell our 100th Vantage GT4 and since its launch it has been one of the most successful cars in its class; the Vantage GT4 and its predecessor, the Vantage N24, scored many 24 Hour race class victories, the 2010 European GT4 Cup title and also back-to-back championship victories in the Nürburgring VLN series in 2010 and 2011.", said John Gaw, Managing Director of Aston Martin Racing.
"The revised version has very large boots to fill, but given the effort we've put into developing the upgrades and following a successful first outing, we're very confident that the 2012 Vantage GT4 will pick up where its predecessor left off.", he added.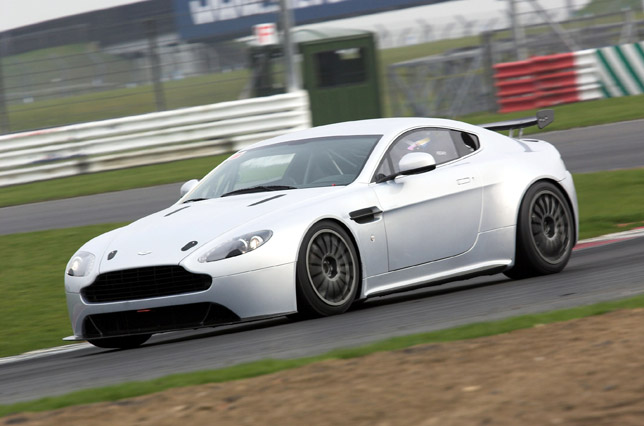 Source: Aston Martin