2012 Audi A1 Sportback Price - £13 980
2012 Audi A1 Sportback will become available in the UK later this month and will reach its first customers here in the spring of 2012. The 5-door city car is priced at just £13 980 OTR.
A1 Sportback makes provision for an extra passenger - up to three can pass through its rear doors and take a seat, each of them protected by a headrest and full three-point seatbelt. The luggage compartment is also pretty good – 270 litres with the rear seats up and 920 litres, when they are folded.
There are three trim levels - SE, Sport and S line. The options list is quite rich, too - alloy wheels, remote central locking, air conditioning, electric front and rear windows and mirrors, split folding rear seat and a six-speaker single CD Concert audio system linked to a 6.5" retractable display.
Sport model additions include larger 16" wheels, sports suspension, sports seats, Bluetooth mobile phone preparation and a Driver's Information System, while S line versions upgrade with extras such as an exclusive S line exterior treatment including larger 17" alloy wheels, S line sports suspension and leather and cloth combination upholstery.
The engine range includes a choice of three TFSI petrol engines and one TDI diesel producing between 86PS and 185PS.
The puniest is the 1.2 litre TFSI with 86PS (63 kW). There are also 1.4 litre TFSI with 122PS (90kW) and 1.4 litre twin-turbocharged TFSI with whopping 185PS (136 kW). The diesel is 1.6 litre TDI with 105PS (77 kW). Later line-up will be joined by a fifth member – the 2.0-litre TDI with 143PS (105 kW).
2012 A1 Sportback 1.6 TDI with 105PS returns up to 74.3 mpg with just 99 g/km of CO2, while the turbocharged and supercharged 1.4 TFSI with 185PS will feature the 7-speed S tronic twin-clutch gearbox – from 0 to 100 km/h in 7 seconds and a top speed of 227 km/h (141 mph).
Check out the full price list, below!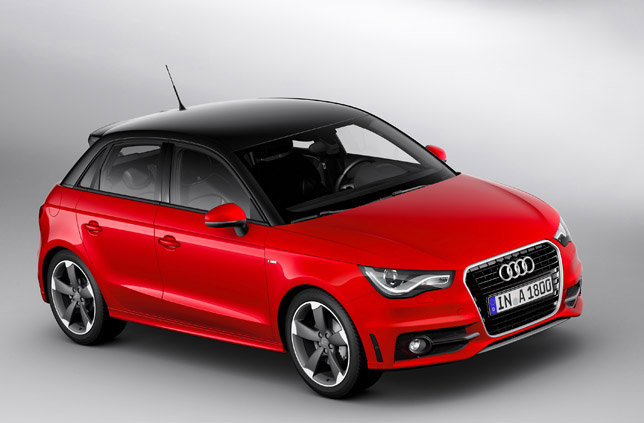 Audi A1 Sportback pricing overview
| | | | | | | |
| --- | --- | --- | --- | --- | --- | --- |
| SE Model pricing | | | | | | |
| Petrol - SE | | | | | | |
| Engines | Power | CO2 g/km | Transmission | Basic RRP | Total RRP | OTR Price |
| 1.2TFSI SE Manual | 86PS | 118 | 5-speed manual | £11,112.50 | £13,335 | £13,980 |
| | | | | | | |
| Diesel - SE | | | | | | |
| Engines | Power | CO2 g/km | Transmission | Basic RRP | Total RRP | OTR Price |
| 1.6TDI SE Manual | 105PS | 99 | 5-speed manual | £11,995.83 | £14,395.00 | £15,040 |
| | | | | | | |
| Sport Model pricing | | | | | | |
| Petrol - Sport | | | | | | |
| Engines | Power | CO2 g/km | Transmission | Basic RRP | Total RRP | OTR Price |
| 1.2TFSI Sport Manual | 86PS | 118 | 5-speed manual | £12,645.83 | £15,175 | £15,820 |
| 1.4TFSI Sport Manual | 122PS | 126 | 6-speed manual | £12,987.50 | £15,585 | £16,230 |
| 1.4TFSI Sport S tronic | 122PS | 119 | 7-speed S tronic | £14,195.83 | £17,035 | £17,680 |
| | | | | | | |
| Diesel - Sport | | | | | | |
| Engines | Power | CO2 g/km | Transmission | Basic RRP | Total RRP | OTR Price |
| 1.6TDI Sport Manual | 105PS | 99 | 5-speed manual | £13,529.17 | £16,235.00 | £16,880 |
| | | | | | | |
| S line Model pricing | | | | | | |
| Petrol - S line | | | | | | |
| Engines | Power | CO2 g/km | Transmission | Basic RRP | Total RRP | OTR Price |
| 1.2TFSI S line Manual | 86PS | 118 | 5-speed manual | £13,933.33 | £16,720 | £17,365 |
| 1.4TFSI S line Manual | 122PS | 126 | 6-speed manual | £14,275.00 | £17,130 | £17,775 |
| 1.4TFSI S line S tronic | 122PS | 122 | 7-speed S tronic | £15,483.33 | £18,580 | £19,225 |
| 1.4TFSI S line S tronic | 185PS | 139 | 7-speed S tronic | £17,091.67 | £20,510 | £21,270 |
| | | | | | | |
| Diesel - S line | | | | | | |
| Engines | Power | CO2 g/km | Transmission | Basic RRP | Total RRP | OTR Price |
| 1.6TDI S line Manual | 105PS | 99 | 5-speed manual | £14,816.67 | £17,780.00 | £18,425 |
Source: Audi