2012 Audi A4 1.8 TFSI 120PS Price - £24 000
Audi has priced the all-new 2012 A4 for the UK. The A4 range are already available and the prices start at under £24 000.
2012 Audi A4 has entirely new exterior boasting a new front fascia with modified grille, new headlights and restyled front hood. At the rear, there are a new diffuser, a pair of new taillights and a dual exhaust system. The sport package – S line includes lowered suspension and 18" alloy wheels and an option for 19".
The interior is also revised and now comes with selection of new steering wheels with chrome and high-gloss inlays. The steering arm and the ignition key have been also modified. There are high-gloss applications and some chrome trim at the controls. The MMI Navigation Plus is further revised as well as the automatic transmission, the efficient air conditioning systems, Audi drive select and the multifunction steering wheel.
The engine range includes six diesel and four petrol power units.
The diesel range includes a 2.0 liter TDI with either 136PS (100 kW) or 163PS (120 kW). There are also options for 120PS (88 kW), 143PS (105 kW) and 177PS (130 kW). The V6 3.0 TDI has either 204PS (150 kW) or 245PS (180kW). All engines come with improved fuel efficiency ranging from 4.2 liters to 4.8 liters of fuel per 100 km.
The petrol variants are a new 1.8 liter TFSI with 170PS (125 kW) and 320Nm (236 lb-ft), a 1.8 TFSI with 120PS (88 kW) and a 2.0 liter TFSI with 211PS (155 kW). The mighty 3.0 liter petrol has 272PS (200 kW). The average consumption in the A4 Sedan is limited to 5.6 liters per 100 km.
The top-of-range S4 has supercharged 3.0-liter TFSI V6 with 333 PS (245 kW) and 440Nm (324 lb-ft). The performance is superb – 0 to 100 km/h in 5.0 seconds flat and a top speed of 250 km/h (155 mph). Furthermore, it need just 8.0 litres per 100 km.
New generation Saloon and Avant versions of the accomplished A4 premium compact executive Saloon, Avant and allroad quattro models combine an even more sharply tailored look and an expanded line-up of engines bringing economy gains of up to 21 per cent. Due in March 2012, the new generation A4 ranges will be priced from just under £24 000.
Check out the full price list, below!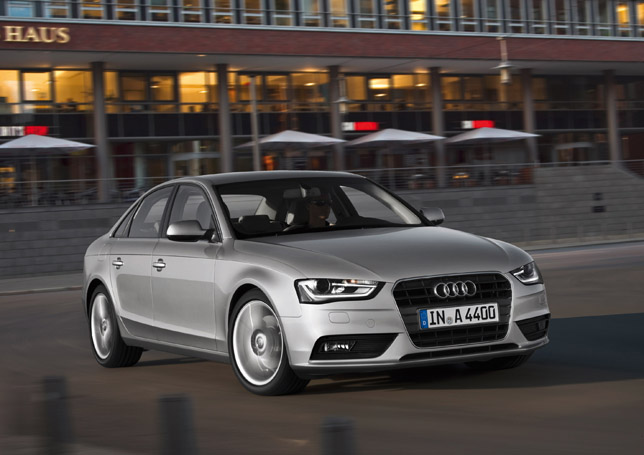 2012 Audi A4 and S4 range – UK OTR Pricelist:
| | |
| --- | --- |
| A4 Saloon SE | |
| 1.8 TFSI 120PS six-speed manual | £sub-24K (from early 2012) |
| 1.8 TFSI 170PS six-speed manual | £25,240 |
| 1.8 TFSI 170PS eight-speed multitronic | £26,720 |
| 2.0 TFSI 211PS eight-speed multitronic | £29,170 |
| 2.0 TFSI quattro 211PS six-speed manual | £29,170 |
| 2.0 TFSI quattro 211PS seven-speed S tronic | £30,650 |
| 2.0 TDIe 136PS six-speed manual | £26,555 |
| 2.0 TDI 143PS six-speed manual | £26,555 |
| 2.0 TDI 143PS eight-speed multitronic | £28,035 |
| 2.0 TDIe 163PS six-speed manual | £27,575 |
| 2.0 TDI 177PS six-speed manual | £27,575 |
| 2.0 TDI 177PS eight-speed multitronic | £29,055 |
| 2.0 TDI quattro 177PS six-speed manual | £29,120 |
| 3.0 TDI 204PS eight-speed multitronic | £30,490 |
| 3.0 TDI quattro 245PS six-speed manual | £TBC |
| 3.0 TDI quattro 245PS seven-speed S tronic | £34,600 |
| | |
| S4 3.0 TFSI quattro 333PS six-speed manual | £38,665 |
| S4 3.0 TFSI quattro 333PS seven-speed S tronic | £39,915 |
Premium for SE Technik specification - £1,100 Premium for S line specification - £2,555 Premium for Black Edition specification - £1,250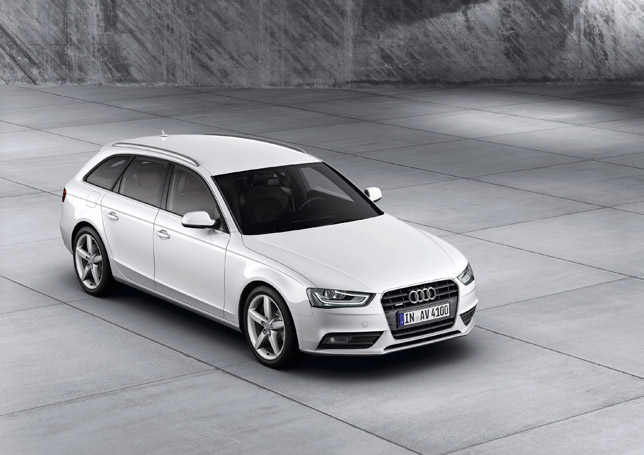 | | |
| --- | --- |
| A4 Avant SE | |
| 1.8 TFSI 120PS six-speed manual | £TBC (available early 2012) |
| 1.8 TFSI 170PS six-speed manual | £26,455 |
| 1.8 TFSI 170PS eight-speed multitronic | £27,920 |
| 2.0 TFSI 211PS eight-speed multitronic | £30,385 |
| 2.0 TFSI quattro 211PS six-speed manual | £30,370 |
| 2.0 TFSI quattro 211PS seven-speed S tronic | £31,850 |
| 2.0 TDIe 136PS six-speed manual | £27,755 |
| 2.0 TDI 143PS six-speed manual | £27,755 |
| 2.0 TDI 143PS eight-speed multitronic | £29,235 |
| 2.0 TDIe 163PS six-speed manual | £28,775 |
| 2.0 TDI 177PS six-speed manual | £28,775 |
| 2.0 TDI 177PS eight-speed multitronic | £30,255 |
| 2.0 TDI quattro 177PS six-speed manual | £30,320 |
| 3.0 TDI 204PS eight-speed multitronic | £31,805 |
| 3.0 TDI quattro 245PS six-speed manual | £TBC |
| 3.0 TDI quattro 245PS seven-speed S tronic | £35,825 |
| S4 3.0 TFSI quattro 333PS six-speed manual | £39,865 |
| S4 3.0 TFSI quattro 333PS seven-speed S tronic | £41,115 |
Premium for SE Technik specification - £1,100 Premium for S line specification - £2,555 Premium for Black Edition specification - £1,250
Source: Audi