2012 Gran Turismo Top 3: Audi RS6, BMW M6 and Chrysler 300C SRT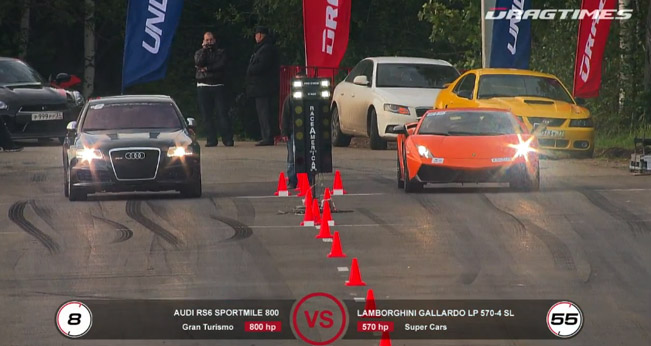 The latest video from Dragtimesinfo includes some races from 2012 Gran Turismo Top 3. The fastest vehicles of 2012 in this class are Audi RS6, BMW M6 and Chrysler 300C SRT, of course tuned ones.
The first start is between the 300C SRT-8 Supercharger (NOS) with 880HP and a powerful 2012 Mercedes-Benz CL600 Kleemann Stage 2 with 700HP. The Mercedes made awesome start, but the Chrysler caught it quickly and finished the 1 mile race in just 28.086 seconds with 315.23 km/h.
The seconds start is between Porsche 911 Turbo (996) 9ff with 900HP and BMW M6 ESS (NOS) with 900HP. This time the Porsche won the race with 27.035 seconds and 310.61 km/h compared to the 27.978 seconds and 304.31 km/h for the BMW.
The last start is between Audi RS6 Sportmile 800 with 800HP and Lamborghini Gallardo LP570-4 SL with 570HP. The Audi obliterated the Lamborhigni. The time of the RS6 is 27.309 seconds with 304.05 km/h.
Check out the full video and comments below.