2012 Honda Civic 5-door EU
Honda has released a full information about the new 2012 Civic 5-door Euro-spec. The car is created with only one purpose – to get you from point A to point B safely and cheaply without any difficulties.
2012 Civic features new lower and wider aerodynamic monoform profile with perfect drag coefficient. The front has a unique look as well as the wide aero management rear combination lamp. There are a lot of changes and many new body colours for the exterior.
The interior boasts a new functional cockpit layout with two control interface zones, a full-colour i-MID TFT screen incorporating an Eco driving support function, audio display and user support. There is also a premium sound system with 90W Subwoofers and 25mm AL dome tweeters available as an option. The steering wheel features new design with easy operating controls finished in extra-smooth leather. Blue interior door lining illumination is also available.
The luggage space is superb – 401 litres.
The engine range includes a 1.4-liter i-VTEC with 100PS (73 kW) and 127Nm (94 lb-ft). 0 to 100 km/h in 13.4 seconds and a top speed of 187 km/h (116 mph). The impressive about it is the fuel consumption – 52.3 mpg, which is only 5.4 litres per 100 km with CO2 emissions of 129 g/km.
The bigger 1.8 liter i-VTEC has 142PS (104 kW) and 174Nm (128 lb-ft). The performance is satisfying – 0 to 100 km/h in 9.1 seconds and a top speed of 215 km/h (134 mph). It needs only 5.8 litres per 100 km on combined cycle – 48.7 mpg with CO2 emissions of 137 g/km.
There is also a diesel – 2.2 liter i-DTEC with 150 PS (110 kW) and 350Nm (258 lb-ft). It is the best choice – 8.5 seconds to 100 km/h and the top speed is 217 km/h (135 mph). It covers 100 km with just 4.2 litres diesel – 67.2 mpg with CO2 emissions of 110 g/km.
Check out all new features, below!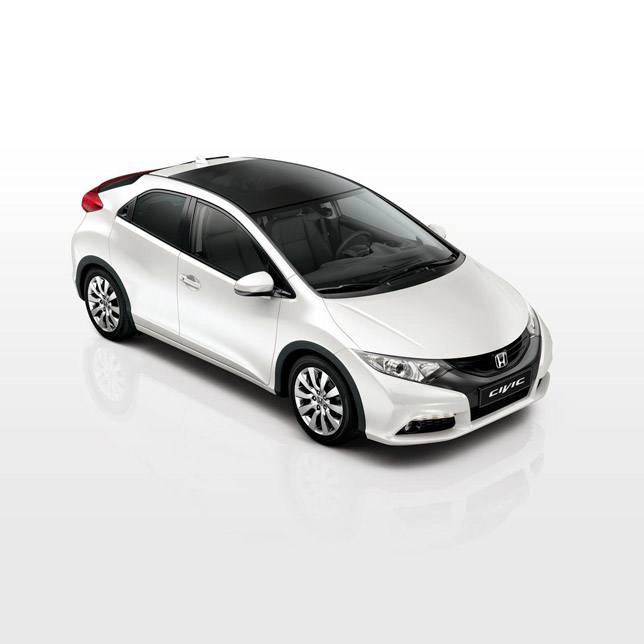 Interior styling
New functional cockpit layout (two control interface zones)
Full-colour i-MID TFT screen incorporating an Eco driving support function, audio display and user support
Premium sound system with superior 20cm 90W subwoofers and 25mm AL dome tweeters (optional)
New touch point surface materials used throughout for an improved quality feel
New designed steering wheel with easy operating controls finished in extra-smooth leather with more comfortable stitching (depending on grade)
Blue interior door lining illumination (depending on grade)
Exterior styling
Lower and wider aerodynamic monoform profile
Elegant look seamlessly unifying all surfaces including the wheel arches and the body
Lower and wider unique look in the front area
Wide aero management rear combination lamp
New brake and indicator light cluster design
New body colours
Comfort and convenience
Air chamber support seat with lumbar and side support
Audio key-off timer and station list
Large, smooth-operating electric sunshade with central opening
HDD navigation system with arrow display, 11 languages and an 800x480mm WVGA screen (depending on grade)
Power windows operated by key fob
Coupling to keyless button function allows the door mirrors to be folded and retracted
Hill start assist
Multiple storage console, including USB/iPod® and AUX inputs
Revised interior and exterior door handles
Smoother gear shift feel
Fuel economy and environmental performance
ECO Assist
Idle Stop
ACG multi-stage control
Reduced engine friction
Optimised combustion
Air shutter grille on diesel model
Safety
LED day time running lights for improved conspicuity
Cap-less fuelling system with misfuelling guard for diesel models
Auto high-beam support system (grade depending)
Distinctive, high-mounted brake light
ACC (Adaptive Cruise Control), CMBS (Collision Mitigation Brake System - grade depending)
Variable speed limiter
Hands-free array microphone (grade depending)
Lowered rear extra window for better view from the driver's seat
Improved crosswind stability
Suspension
Fluid-filled compliance bushings for superior damping in the rear suspension
H-Beam Trailing Arm with even higher rigidity than the predecessor Civic Type R for road stability
Engines
2.2-litre i-DTEC diesel producing 110g/km of CO2 with 150 PS and 350 Nm of torque.
1.8-litre i-VTEC petrol producing 137g/km of CO2 with 142 PS at 6500 rpm and 174 Nm of torque at 4300 rpm
1.4-litre i-VTEC petrol producing 129g/km of CO2 with 100 PS and 127 Nm of torque at 4800 rpm
Source: Honda