2013 Geneva Motor Show: Lamborghini Veneno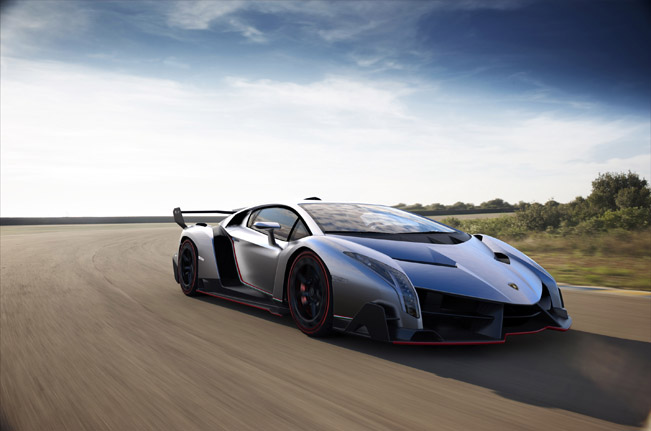 Lamborghini has announced the exclusive Veneno at the 2013 Geneva Motor Show. Only three unique units of the Lamborghini Veneno will be built and sold. Its design is consistently focused on optimum aerodynamics and cornering stability, giving the Veneno the real dynamic experience of a racing prototype.
It is powered by a 6.5 liter V12 from Aventador, but tuned to 750HP (552 kW). The engine is mated to a fast-shifting 7-speed ISR transmission with 5 driving modes and permanent all-wheel drive. The hyper-car, which weighs just 1,450 kg (3,190 lbs) accelerates itself to 100 km/h in 2.8 seconds and has a top speed of 355 km/h (220 mph).
The Veneno is painted in an all-new, grey metallic-look color with individual parts gleaming in the black of the visible carbon-fiber structure. The exclusive alloy wheels measure 20" at the front and 21" at the rear and are equipped with center mountings. Their design is also determined by aerodynamic functionality – a carbon-fiber ring around the wheel rim works like a turbine to deliver additional cooling air to the carbon-ceramic brake discs.
The bespoke styling carries over to the cabin as the Veneno is equipped with a new instrument cluster, Forged Composite seats and woven carbon-fiber CarbonSkin trim.
Source: Lamborghini