2013 Porsche Cayenne S Diesel - €77,684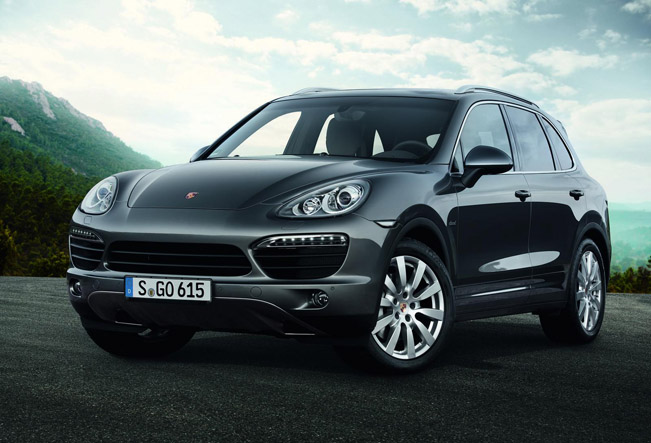 Porsche has announced that they will offer Cayenne S Diesel coming with a mighty 4.2 liter twin-turbocharged V8. This is a bold move from the German manufacturer, because most of the people, who like fast vehicles choose the petrol variants and this is not everything. The true Porsche fans also like the petrol engines, instead of diesel variants. Still, this can be an interesting combination.
The twin-turbo V8 4.2-liter engine has 382HP (284 kW) and 850 Nm (627 lb-ft) of torque. 0-100 km/h in 5.7 seconds and a top speed of 252 km/h (157 mph). Porsche claims that the big SAV will actually achieve a fuel consumption of 8.3 liters per 100 km, which is extremely hard for a big AWD SAV. That means that the 100-liter fuel tank it should be able to provide a range of more than 1200 km (750 miles).
The very special character of the Cayenne S Diesel is further underlined by the Porsche Traction Management (PTM) active all-wheel drive. This system delivers the dynamic qualities of a rear-wheel drive car, together with its inherent benefits in terms of handling and precision. Torque is directed to the front wheels precisely according to the driving situation to improve stability and traction. The optional Porsche Torque Vectoring Plus (PTV Plus) further hones this dynamic performance.
Other standard features include a dual-zone automatic climate control, leather interior, cruise control, front and rear parking sensors, 7" touchscreen display and 18" alloy wheels fitted with low-profile performance tires.
The price for the big toy is €77,684 in Germany - including 19% VAT.
Source: Porsche