2014 Audi S8 accelerated by ABT POWER S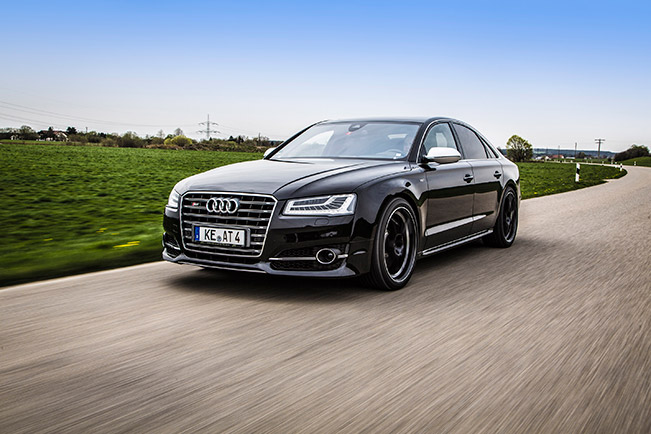 It's a bird! It's a plane! No, it isn't Superman. It is the super sports saloon Audi S8! Tuned by ABT Sportsline, the extremely fast car does not reach only high acceleration, but high-quality of efficiency, performance, luxury, comfort and minimum noise as well.
As a matter of fact, the tuned Audi S8 is more than just powerful enough. Powered with Biturbo-V8 engine which has 3,993 cc capacity, the car is now upgraded from 570 hp (328 kW) to 676 hp (496 kW) and, respectively, a peak torque of 840 Nm (previously 650 Nm). The Audi S8 can speed up to 100 kph in the incredible 3.6 seconds and it has a top speed of 290 kph. The demonstrated moments of excellence and supremacy even when it reaches high speeds are possible due to the ABT Engine Control which includes a special software. Finally, the incorporated ABT muffler system makes the best and most effective use of the technical part without altering the appealing serial look.
The ABT wheels are made in ER-C or DR design in 9.5 x 20 or 9.0 x 21 inches. Optionally, the Audi S8 also comes with a set of wheel with sports tires sized 275/35 R20 or 275/35 R21.
It can scarcely be defined as simply ordinary for the ABT family have surpassed themselves once again in what they strive to achieve. There is something more about their new creation. The S8 has that edgy-look that always leaves a trail behind. It is different, powerful, tasteful, elegant and à la mode! Grace and speed in one place.
ABT Sportsline, the biggest and one of the most notable car-tuners around the world, has definitely raised the qualities of the racing limo to a higher standard!