ABT Super-Q5 Faster than Audi SQ5 TDI plus? Yes, it is!

ABT Sportsline has a big surprise for all keen on Audi tuning today. They have managed to make a car so powerful that it can kick the butt of the standard Audi SQ5. The gains in power are impressive and they measure more than 40 horsepower. The tuner made all this possible thanks to the 'New Generation' engine tuning program.
The result is pretty impressive and shows significant gains. Precisely, the standard for the 3.0 TDI 326 hp (240 kW) are now lifted to 365 hp (268 kW), while the torque has been raised from 650 lb-ft to 710 Nm.
SEE ALSO: ABT Audi AS6 Gets More Power and Attitude
This makes it possible for the naughty Audi to jump quickly from 0 to 100 km/h in less than 5 seconds. Additionally, the experts decided to raise the top speed too, making it 260 km/h.
ABT Aero Kit for the SQ5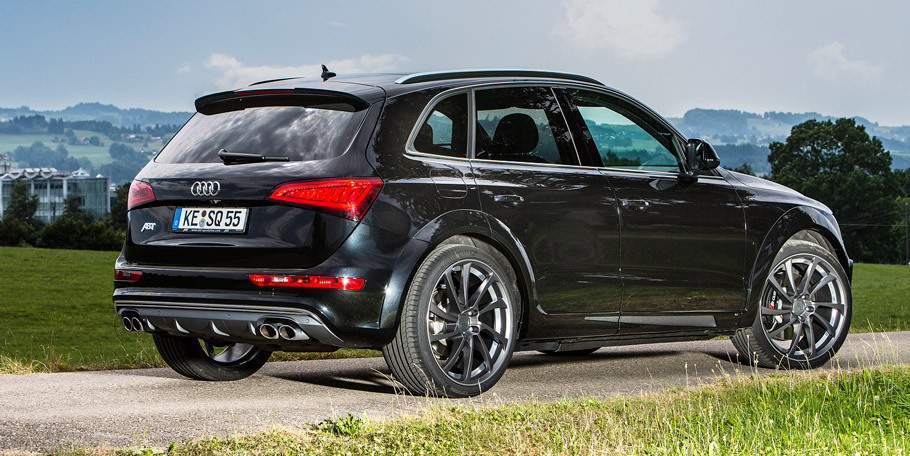 Besides the changes in power, ABT wanted to make the car a little bit more likeable. Thus the Aero pack was born. To go into details, it includes front skirt and a brand new grill, door strip attachments and a rear wing. There is a wide variant of this pack that adds right fender extensions.
Next, wheel spacers of between 30 to 70mm per axle make for the right tread, while the ABT height adjustable suspension springs lower the car between 5 and 30mm on the front axle and of between 10 and 35 on the rear.
ABT Sportsline is also proficient in making cool wheels. For this project it is offering its CR, DR, ER-C and FR models, in sizes of 20 and 21-inches. They can be fitted with Continental or Pirelli sports tires in 255/45 R20, 255/40 R21, 255/35 R21 and 265/35 R22 dimensions. The interior received only minor details and these include the in-house made ABT floor and trunk mats.
Now, isn't that the perfect vehicle for the weekend?
Source: ABT Sportsline