2014 Porsche 911 Turbo Cabriolet [video]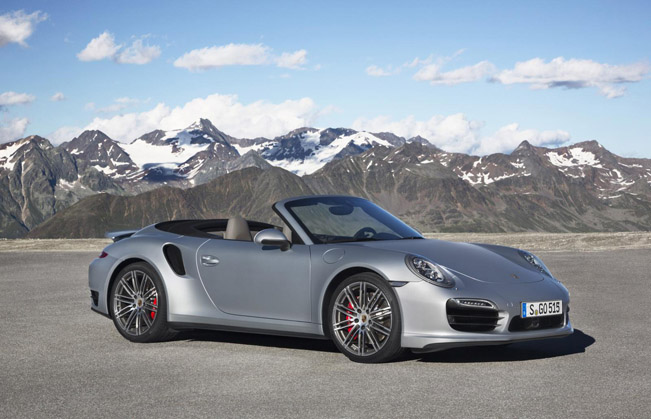 Porsche has introduced the new 2014 911 Turbo and Turbo S Cabriolet. The sports drop-top will make its official debut at the 2013 Los Angeles Auto Show scheduled for November 20th. By adding the two new 911 Turbo models into the mix, Porsche is doubling its offering of the top-of-the-range models to four versions. In extending the range, the 911 Turbo Cabriolet and 911 Turbo S Cabriolet deliver the same blend of sporty dynamism, performance and efficiency offered by the Coupe model unveiled a few months ago.
2014 Porsche 911 Turbo Cabriolet is powered by a 3.8 liter turbocharged flat-six with 520HP (383 kW) and 560HP (412 kW) for the S model. 0-100 km/h in 3.1 seconds and a top speed of 314 km/h (195 mph). It is able to return 17 mpg in city and 24 mpg on highway.
The interior of the new Cabriolet models follows that of the 911 Turbo Coupe. The S-model boasts a particularly extensive range of features, including an exclusive interior available in Black/Carrera Red and adaptive Sport Seats Plus with 18-way adjustment and memory. In addition, the backrest shells of the seats are leather trimmed with double stitched seams, and various elements are made from lightweight carbon fiber. As with predecessor models, the Bose sound system is fitted as standard, and for the first time, a Burmester sound system is available as an option. The radar-controlled adaptive Cruise Control system, camera-based road sign and speed limit recognition function and reverse camera are also available as options.
The new 911 Turbo Cabriolet will hit the US market in the beginning of the next year with pricing starting from $160,700, while the Turbo S Cabriolet will have a price tag of $193,900.
Source: Porsche