2014 Suzuki SX4 S-Cross - Price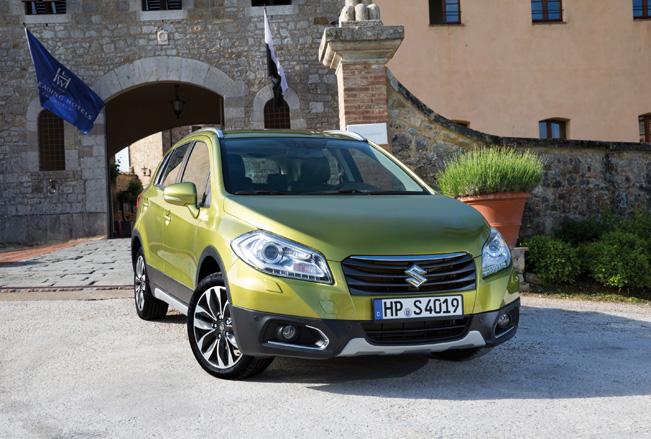 Suzuki UK has announced the pricing of the new 2014 SX4 S-Cross, which will hit the market on 1st October with pricing starting from just £14,999 for the SZ3 1.6-Litre petrol and going up to £23,549 for the range-topping 1.6 DDiS SZ5 Allgrip Manual.
Suzuki created the new SX4 S-Cross by combining its compact car know how with technologies honed for sport utility vehicles. As a result of focusing on giving the new S-Cross distinctive crossover styling, class leading space for passengers and luggage, next-generation 4WD performance and one of the lowest CO2 emissions in the segment, it achieves a remarkable combination of styling, utility, safety, performance and fuel economy. It is a model which can offer great driving enjoyment and versatile family usage to many more people in a wide range of situations.
The engine range includes a 1.6 litre petrol achieving 51.3 mpg with 2WD and manual gearbox and a 1.6 liter DDiS diesel returning up to 67.2 mpg with the same configuration. Both come with Engine Auto Stop/Start system.
ALLGRIP is Suzuki's new generation 4WD, created by evolving the company's renowned 4WD technologies to provide driving enjoyment and peace of mind in diverse conditions while promoting economy and limiting the strain which 4WD cars place on the environment. The four-mode 4WD system in the new SX4 embodies ALLGRIP technology.
Pricing for the SX4 S-Cross is as follows:
| | | |
| --- | --- | --- |
| S-CROSS | CO2 OUTPUT | PRICE |
| 1.6 SZ3 Manual | 127 g/km | £14,999.00 |
| 1.6 SZ4 Manual | 127 g/km | £16,249.00 |
| 1.6 SZ-T Manual | 127 g/km | £17,749.00 |
| 1.6 SZ5 Manual | 127 g/km | £19,749.00 |
| 1.6 SZ5 CVT | 125 g/km | £21,099.00 |
| 1.6 SZ5 ALLGRIP Manual | 135 g/km | £21,549.00 |
| 1.6 SZ5 ALLGRIP CVT | 130 g/km | £22,449.00 |
| 1.6 DDiS SZ3 Manual | 110 g/km | £16,999.00 |
| 1.6 DDiS SZ4 Manual | 110 g/km | £18,249.00 |
| 1.6 DDiS SZ-T Manual | 110 g/km | £19,749.00 |
| 1.6 DDiS SZ5 Manual | 110 g/km | £21,749.00 |
| 1.6 DDiS SZ-T ALLGRIP Manual | 114 g/km | £21,549.00 |
| 1.6 DDiS SZ5 ALLGRIP Manual | 114 g/km | £23,549.00 |
Source: Suzuki