2015 Mercedes-Benz CLS and CLS Shooting Brake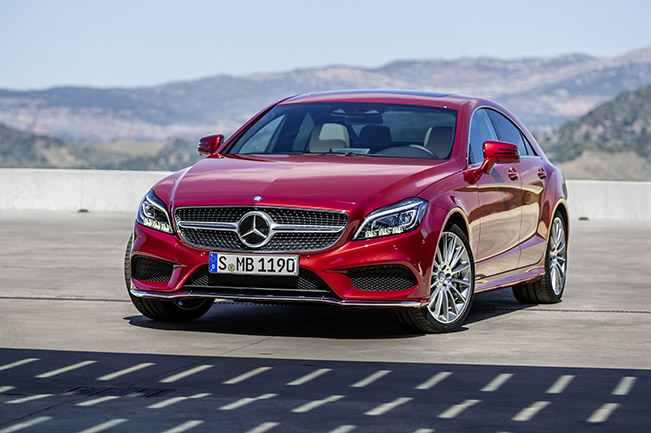 Mercedes-Benz has officially unveiled the updated 2015 CLS Coupe and CLS Shooting Brake. Both models come with impressive design and a number of technologies. There are a lot of upgrades for the exterior as well as the interior. The extremely powerful and efficient engines bring additional joy and driving pleasure.
The most important feature are the all-new Multibeam LED headlights. They feature 24 individually-controlled LEDs automatically adjusted 100 times per second by using a camera and four control units. The innovative technology can detect oncoming vehicles and automatically adjust the light beam, so the drivers won't be affected. The headlights can also detect upcoming bends and illuminate them ahead of time while the navigation system will detect roundabouts, which will make the headlights to provide optimal visibility.
The engine range includes a 2.1 liter four-cylinder diesel for CLS 220 BlueTEC – 170HP (125 kW) and 400Nm (295 lb-ft). The same engine produces 204HP (150 kW) and 500Nm (369 lb-ft) of torque for the CLS 250 BlueTEC. There is also a 3.0 liter V6 diesel with 258HP (190 kW) and 620Nm (457 lb-ft) of torque - CLS 350 BlueTEC.
The petrol range features the new CLS 400 (replacing the CLS 350 CGI) – 3.5 liter V6 bi-turbo – 333HP (245 kW) and 480Nm (354 lb-ft), which is 26HP and 110Nm more. The CLS 500 has 408HP (300 kW) and 600Nm (442 lb-ft) of torque, while the extremely powerful CLS 63 AMG model is powered by a 5.5 liter bi-turbo V8 with either 557HP (410 kW) and 720Nm (533 lb-ft) or 585HP (430 kW) and 800Nm (593 lb-ft). All engines comply with EURO6 regulations.
Available as an option is the new 9G-TRONIC nine-speed automatic transmission (for the CLS 220 BlueTEC, CLS 250 BlueTEC, CLS 350 BlueTEC or CLS 500). It promises to slash fuel consumption while "enhancing shift comfort and agility".
Source: Mercedes-Benz