2015 MINI 5-door Hatchback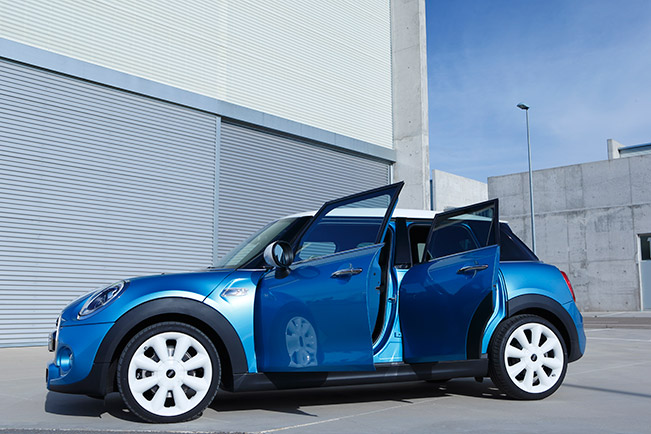 MINI has officially unveiled the first 5-door Hatchback model, which is expected to hit the market this fall. The more practical 5-door body style which compared to the regular model has a 72 mm longer wheelbase (2,567 mm) is going to increase rear legroom and foot space by 72 mm while headroom has increased by 15 mm.
The bigger MINI also provides 61 mm additional interior width at elbow height while the trunk capacity now stands at 278 liters, which is 67 liters more than the 3-door model. The rear seat can be folded down to create a cargo volume of 941 liters.
The engine range includes: a 3-cylinder 1.5-liter TwinPower Turbo - 136HP and 220Nm (230 Nm with power boost), a 3-cylinder 1.5-liter TwinPower Turbo diesel with 116HP and 270Nm in the Cooper D, a 4-cylinder 2.0-liter TwinPower turbo diesel with 170HP and 360Nm in the Cooper SD and a powerful 4-cylinder 2.0-liter TwinPower Turbo with 192HP and 280Nm (300 Nm with power boost) in Cooper S.
Depending on the engine choice, MINI is offering a 6-speed manual gearbox, a 6-speed Steptronic transmission or a Steptronic sports unit.
The base model starts at just £15,900 in the UK, while the Cooper D has a price tag of £17,050, the Cooper S costs £19,255 and the Cooper SD is £20,050.
Source: MINI